THE D'OYLY CARTE OPERA COMPANY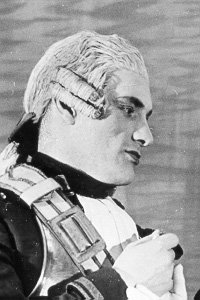 Henry Goodier as Luiz in The Gondoliers
Henry Goodier (1947-51)
[Born Liverpool c.1925]
Henry Goodier joined the D'Oyly Carte Opera Company in May 1947 as a tenor chorister, switching to baritone the following year. In April 1949 he played his first named part, Antonio in The Gondoliers, filling in for Alan Styler when the latter deputized as Giuseppe.
In July 1949 Goodier took over Luiz as his only named part and played it for the rest of his tenure with the Company, which ended in August 1951. He filled in on one occasion in February 1950 for Richard Watson as Captain Corcoran in H.M.S. Pinafore. Goodier may be heard as Luiz on the D'Oyly Carte's 1950 recording of The Gondoliers.
After leaving the D'Oyly Carte organization, Goodier took two small parts in long-running Rogers & Hammerstein musicals:as Seebee Richard West in South Pacific (Drury Lane, November 1951- September 1953, a run of 792 performances), and as a Priest in The King and I (Drury Lane, October 1953-January 1956, 946 performances).
He made several further London Stage appearances (as Harry Goodier). He was an extra in a musical adaptation of Tom Robertson's School (Princes, March 1958, 14 performances), and had several small parts in Irma La Douce (Lyric, from July 1958). Irma ran until 1962, a run of 1,512 performances but Goodier left the cast at some point during the run. He later appeared as Bill Sikes (the third of four in the six-year run) of Lionel Bart's Oliver! at the Wimbledon Theatre in the mid-1960s.
---
G Index | "Who Was Who" Homepage
---