THE D'OYLY CARTE OPERA COMPANY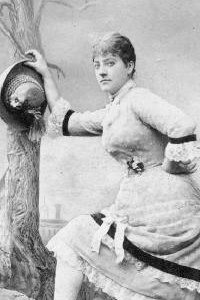 Amy Gordon
Amy Gordon (1878, 1892)
Amy Gordon had two engagements with the D'Oyly Carte organization:as a chorister on tour with Carte's Comedy-Opera Company, March-August 1878, and fourteen years later as Agatha in The Vicar of Bray with D'Oyly Carte Opera Company "D," March-July 1892.
In between, she worked in London, the British provinces, and America. Her roles in America included the title role in Walter Parke and W. Luscombe Searelle's comic opera Estrella at the Standard Theatre, New York (December 1884). Estrella lasted only three performances because the theatre was destroyed by fire on December 14. Her last appearance in New York was in a concert at Steinway Hall in November 1888.
Her last appearances in London were as an extra in the burlesque Guy Fawkes, Esq. (Gaiety, 1890), and in the roles of Daisy and Polly in the comedies The Lady Killer and Binks, The Downy Photographer (Strand, 1893).
---
G Index | "Who Was Who" Homepage
---