THE D'OYLY CARTE OPERA COMPANY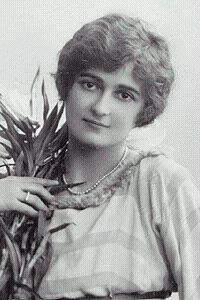 Marjorie Gordon
Marjorie Gordon (1915-16)
[Born Southsea 12 Nov 1893, died 14 Oct 1983]
Soprano Marjorie Gordon, whose real surname was Kettlewell, got her start with the D'Oyly Carte Repetory Opera Company as a chorister in April 1915. During the July 1915-June 1916 season she appeared regularly as the Plaintiff in Trial by Jury and Lady Psyche in Princess Ida, and filled in on occasion for Elsie McDermid as Patience in Patience and Yum-Yum in The Mikado.
She left the D'Oyly Carte in June 1916, moving to the Adelphi Theatre, London, where she understudied in the musical High Jinks, appearing on occasion as Sylvia Dale in September 1916 and July 1917. She toured in the role later that year. A popular comedic actress, she enjoyed her first real success in London as the title character in the romantic comic opera Valentine (St. James's, January-April 1918). She appeared regularly on the London Stage for the next twenty years in a variety of musical comedies and some legitimate plays.
Miss Gordon made a number of recordings from the musical shows Going Up (Gaiety, 1918) and Who's Hooper? (Adelphi, 1919-20). Her last appearance in London came in the "revusical promenade" Let's All Go Down the Strand (Adelphi, February 1939).
---
G Index | "Who Was Who" Homepage
---