THE D'OYLY CARTE OPERA COMPANY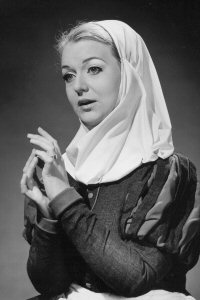 Julia Goss as Elsie Maynard in The Yeomen of the Guard
Julia Goss (1967-79)
[Born Baillieston, Lanarkshire, Scotland]
Soprano Julia Goss studied singing and music at Trinity College of Music, London, joining the D'Oyly Carte Opera Company chorus upon leaving college in April 1967. In September 1968 she took over the small parts of Isabel in The Pirates of Penzance, Sacharissa in Princess Ida, Kate in The Yeomen of the Guard, and Giulia in The Gondoliers. She also filled in on occasion as Elsie Maynard in Yeomen.
In January 1969 she was promoted in principal soprano upon the departure of Valerie Masterson, taking over her parts as Mabel in The Pirates of Penzance, Yum-Yum in The Mikado, Elsie in Yeomen, and Casilda in The Gondoliers. She would play Mabel, Yum-Yum, and Casilda for the rest of her D'Oyly Carte career, but gave up Elsie when the next season began in September 1969. Over the next ten years, she also appeared regularly as Lady Ella in Patience (1969-72), Lady Psyche in Princess Ida (1969-71, 1974-75), Rose Maybud in Ruddigore (1969-79), and Aline in The Sorcerer (1971-75). During the 1975 Centenary season she appeared as the Plaintiff in Trial by Jury, Princess Nekaya in Utopia Limited, and Julia Jellicoe in the concert performance of The Grand Duke. She also filled in on occasion (1972-75) as Josephine in H.M.S. Pinafore.
While with the Company she recorded the Plaintiff in Trial (1975), Nekaya in Utopia (1976), Julia in The Grand Duke (1976), Casilda in The Gondoliers (1977), and Laetitia Grinder in The Zoo (1978), along with excerpts from Gondoliers and Ruddigore in a 1970 D'Oyly Carte recording called "Songs and Snatches."
Julia Goss left the D'Oyly Carte Opera Company in April 1979. She went on to perform with the Old Vic Company, the Stadium Theatre Company, and at the Haymarket Theatre, Leicester. Her West End musical roles have included Carlotta in The Phantom of the Opera and Molina's Mother in Kiss of the Spiderwoman. She has participated in several reunions of former D'Oyly Carte artists, including appearances at the Gilbert & Sullivan Festival in Buxton and elsewhere. She has also developed a one-woman cabaret act that premiered in Monte Carlo.
---
G Index | "Who Was Who" Homepage
---