THE D'OYLY CARTE OPERA COMPANY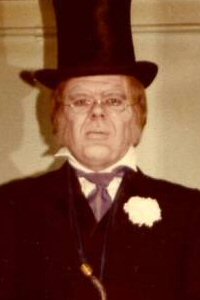 Bruce Graham as the Notary in The Sorcerer
Bruce Graham (1979-82)
[Born Edinburgh 1 Jun 1948]
Bruce Burnett Graham was a bass chorister, understudy, and small part player with the D'Oyly Carte Opera Company from October 1979 until its last night in February 1982. Graham filled in on occasion as Bob Beckett in H.M.S. Pinafore (1979-82), Pooh-Bah in The Mikado (1979-81), Don Alhambra in The Gondoliers (1979-80), and the Sergeant of Police in The Pirates of Penzance (1981-82). During the Company's last season he was the regular Notary in The Sorcerer.
In the late 1980s Graham appeared in Follies at London's Shaftesbury Theatre, and eventually had a spell as Old Deuteronomy in Cats. More recently he has returned to Gilbert & Sullivan with the Carl Rosa Company. His roles with Rosa have included the Sergeant in Pirates, the Earl of Mountararat in Iolanthe, the Mikado of Japan and Pooh-Bah in The Mikado, Sergeant Meryll in The Yeomen of the Guard, and Don Alhambra in The Gondoliers. He may be heard as Pooh-Bah on Rosa's 2001 CD recording of The Mikado, as well as on the 1989 Prince Consort CD recording of Sullivan's Ivanhoe (Pearl SHE CDS 9615), in which he sings Cedric the Saxon and Locksley.
Graham is married to D'Oyly Carte mezzo-soprano Madeleine Hudson.
---
G Index | "Who Was Who" Homepage
---