THE D'OYLY CARTE OPERA COMPANY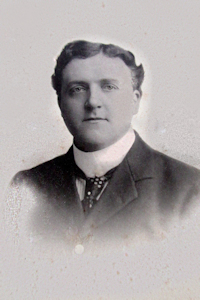 Leon Graham
Leon Graham (1886-87, 1893-1902)
[Born 1867, died Cape Town, South Africa 12 Apr 1902]
Leon Graham (real name Leon Cadenne de Lannoy) made his first D'Oyly Carte appearance as a tenor chorister with Mr. D'Oyly Carte's "E" Company in The Mikado in 1886-87. He later served with several Carte touring companies between 1893 and 1902.
Graham joined Carte's repertory Company "B" as a chorister in 1893. With Company "B" he eventually assumed Mr. Box in Cox and Box (May 1895) and Francesco in The Gondoliers (August 1895). Those operas were dropped in March and April 1896, respectively, and Graham was temporarily relegated to chorus duty again, before assuming the tiny part of Viscount Mentone in The Grand Duke from July to November 1896. From January to July 1897 his one named part was Leonard Meryll in The Yeomen of the Guard.
Company "B" had been redesignated as Company "C" in March 1897, so when Graham took a new assignment in August of that year it was with a new Company "B" (recently returned from South Africa). This time he was principal tenor, appearing initially as Earl Tolloller in Iolanthe, Nanki-Poo in The Mikado, Colonel Fairfax in Yeomen, and Prince Max in His Majesty (the latter opera was dropped the following month). When The Sorcerer was added to the repertoire in October, Graham took Alexis, and he added Frederic when The Pirates of Penzance joined the tour in March 1898. On at least one occasion that season he appeared as the Defendant in Trial by Jury.
Company "B" was disbanded in June 1898, but Graham resurfaced with Company "C," and in November he replaced the departing Richard Clarke as its principal tenor. Between November 1898 and March 1902 Graham sang the leading tenor roles in all the full-length operas in the Company's frequently exhaustive repertoire:Alexis, Ralph Rackstraw in H.M.S. Pinafore, Frederic, the Duke of Dunstable in Patience, Tolloller, Cyril in Princess Ida, Nanki-Poo, Fairfax, Marco in The Gondoliers, and Captain Fitzbattleaxe in Utopia Limited.
In March 1902, Graham left London with a D'Oyly Carte company for what was scheduled to be a lengthy tour of South Africa. They landed in Cape Town on April 7 but Graham never appeared on stage. He had fallen seriously ill on board ship and died shortly after their arrival.
---
G Index | "Who Was Who" Homepage
---