THE D'OYLY CARTE OPERA COMPANY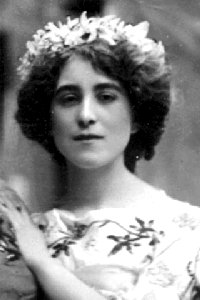 Ruby Gray as the Lady Ella in Patience
Ruby Gray (1906-07)
Ruby Gray served with the D'Oyly Carte Opera Company at the Savoy during the First London Repertory Season (December 1906-August 1907). She took the part of Lady Ella when Patience was revived in April 1907, assumed Kate in The Yeomen of the Guard and Gianetta in The Gondoliers in June (following the departure of Lillian Coomber), and added Celia in Iolanthe in July (replacing Violette Londa). She had filled in earlier on occasion as Kate (January, March, and May), and Gianetta (February), and also made a few appearances as Fiametta (January and March) and Giulia (March) in The Gondoliers.
She returned to the Savoy:though not to the D'Oyly Carte:as Yvonne in Eden & Somerville's The Mountaineers (September-November 1909), and as Leila in Gilbert & German's Fallen Fairies (December 1909-January 1910). She also appeared as an extra in a musical play called The Merry Monarchs at the Savoy and, later, the Strand (March-May 1910).
Ruby Gray appears to have retained her interest in Gilbert & Sullivan throughout her life. She wrote a letter to The Savoyard, magazine of the D'Oyly Carte Opera Trust, in praise of Louie Rene (the principal contralto during that First London Repertory Season). It was published in the January 1968 issue.
---
G Index | "Who Was Who" Homepage
---