THE D'OYLY CARTE OPERA COMPANY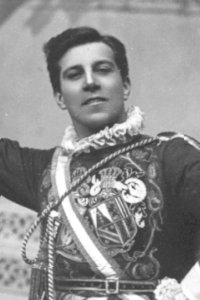 Richard Green as Giuseppe in The Gondoliers
Richard Green (1892-93, 1907)
[Born Kensington, London 21 Apr 1866, died Surbiton, London 16 Jan 1914]
Richard Green was educated at Margate College and worked as a bank clerk before embarking on a musical career. He prepared for the stage at the Royal Academy and in Italy, and first appeared as Prince John at the Royal English Opera House in Sullivan's grand opera Ivanhoe. He would later follow David Bispham as the Duc de Longueville in La Basoche, before joining the D'Oyly Carte Opera Company at the Savoy where he was Tommy Merton in the January-June 1892 revival of The Vicar of Bray. Later that year (September 1892-March 1893) at the same theatre he would create the part of Sir George Vernon in Haddon Hall.
He then left the D'Oyly Carte, taking a series of grand opera assignments at Covent Garden and Drury Lane between 1893 and 1896, returning to lighter fare in August 1896 as Fred Dorian in the musical comedy Monte Carlo at the Avenue until November 1896. He then appeared at Terry's (and later the Vaudeville) as Lieutenant Harry Fyfe in Hood and Slaughter's The French Maid (April 1897-August 1898).
His next London appearance was as Captain Harry Romney in the comic opera My Lady Molly (Terry's, March 1903-January 1904). He also made brief appearances later that year at the Lyric and Avenue.
Richard Green returned to the Savoy in January 1907 for D'Oyly Carte's First London Repertory Season, as Giuseppe in The Gondoliers. He played Giuseppe until June 1907 when he left the cast. He did not appear in any of the other operas that season.
Green also performed on the concert stage and in numerous grand operas outside London. He was also one of England's early recording artists:with three records issued in 1900-01. One of these, "Two Little Irish Songs," was reissued on the 2-LP set, "The Art of the Savoyard: Volume II" (Pearl GEMM 282/3).
Richard Green was a close friend of Henry Wood, in whose autobiography we learn of Green's inability to deal with money. On January 16, 1914, Green jumped off a railway platform at Surbiton Station and threw himself in front of the Waterloo to Portsmouth train. He was badly mutilated and died on the way to the hospital. He was 47 years old and left a widow and two children.
---
G Index | "Who Was Who" Homepage
---