THE D'OYLY CARTE OPERA COMPANY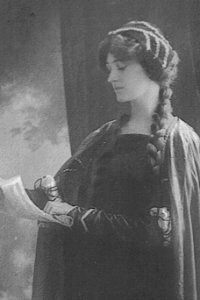 Marion Grey
Marion Grey (1893-94, 1896-99)
[Born 1886]
Marion Grey played a number of, mostly smaller, soprano parts with several touring D'Oyly Carte companies between January 1893 and September 1899. Her first role was the Lady Ella in Patience with D'Oyly Carte Opera Company "C" from January to August 1893. During May and June of that year she filled in briefly as Kate in The Yeomen of the Guard and Casilda in The Gondoliers.
She then transferred to Carte's Company "B," where she was Ella once more from August-September 1893 and December 1893-February 1894. That month Company "B" took up Utopia Limited with Miss Grey as Saleta. In July 1894 she moved up to Princess Zara in Utopia with the newly formed D'Oyly Carte Opera Company "A." Company "A" was disbanded in December 1894, and we lose track of Miss Grey for the next fifteen months.
In March 1896 she reappeared, this time as Olga in a new touring production of The Grand Duke with D'Oyly Carte Opera Company "D." Utopia Limited joined The Grand Duke on the tour in October with Miss Grey this time as Melene. Company "D" was disbanded in November 1896. She then transferred to D'Oyly Carte Opera Company "E," serving with their chorus from November 1896 to October 1897.
Her next named part was Constance in The Sorcerer, from October to December 1897 with Carte's Company "B.". In October she also briefly substituted as Peep-Bo in The Mikado as well. In January 1898 she assumed Peep-Bo, as well as the Plaintiff in Trial by Jury, Kate in Yeomen, and (beginning in March) Constance in The Sorcerer with that Company, while also filling in briefly as Yum-Yum in The Mikado for Isabel Jay in May 1898.
Company "B" was then disbanded in June 1898. Marion Grey next appeared in the program of D'Oyly Carte Opera Company "D" from February-September 1899 as Asphodel in The Lucky Star and (from July onwards) as Gertrude in Haddon Hall. They were her last roles with the Company.
---
G Index | "Who Was Who" Homepage
---