THE D'OYLY CARTE OPERA COMPANY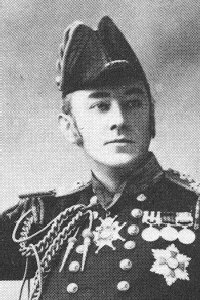 Lawrence Gridley as Captain Corcoran in Utopia Limited
Lawrence Gridley (1886-98)
[Born c.1859, died London 16 Dec 1901]
James Lawrence Gridley began his D'Oyly Carte career as a chorister in The Mikado on tour with Mr. D'Oyly Carte's "E" Company in 1886. In April 1887 he ascended to the role of Pooh-Bah on the departure of Tom Redmond, and in December, when "E" Company switched to H.M.S. Pinafore, he took the part of Dick Deadeye. "E" Company added The Pirates of Penzance in April 1888, touring Pinafore and Pirates until June with Gridley as Deadeye and the Sergeant of Police. In June Pinafore was dropped and Mikado restored, with Gridley as Pooh-Bah again. They would tour Pirates and Mikado until November.
In November 1888, "E" Company began touring the new Savoy opera, The Yeomen of the Guard, with Lawrence Gridley as Wilfred Shadbolt. The ever-popular Mikado joined Yeomen on tour in April 1889, Gridley once more as Pooh-Bah.
On February 19, 1890, Gridley had the honor of giving the First Provincial performance as Don Alhambra and "E" Company toured The Gondoliers exclusively until November, when, once again, The Mikado was added to the tour. This time Gridley was spared a fourth go at Pooh-Bah:he played the title role instead.
"E" Company toured Gondoliers and Mikado together until September 1891 when Iolanthe joined the mix, with Gridley taking Private Willis. Also in September, Edward Clowes (who had been playing Pooh-Bah) left "E" Company, and Gridley took his fourth turn with it after all. Gondoliers, Mikado, and Iolanthe ran together until June 1892, at which point The Gondoliers was dropped and replaced by The Vicar of Bray, Gridley as Bedford Rowe. He would coninue to tour as Willis, Pooh-Bah, and Rowe until April 1893, when he would be called to the Savoy.
For his first role in London, Gridley drew Sim, one of the "Bulldogs," in Jane Annie, J. M. Barrie, Arthur Conan Doyle, and Ernest Ford's lone attempt at a Savoy opera. After 50 performances (May 13-July 1, 1893), the Savoy closed and the Company went on tour until September. Upon his return, Gridley was next awarded with Captain Corcoran in the penultimate Gilbert & Sullivan opera, Utopia Limited. He would play it for the duration of the run (October 1893-June 1894). After that, it was back to touring.
In July 1894, Lawrence Gridley reported to D'Oyly Carte Opera Company "D," replacing G. W. Cockburn as Scaphio in Utopia Limited. When The Vicar of Bray was added to the tour in November, he once again took up Bedford Rowe; when Mirette joined the mix in December, Gridley was Baron van de Berg; and when the tour was expanded yet again to include The Chieftain, in February 1895, he added Sancho to his repertoire.
Mirette was dropped in June 1895, and The Chieftain in August, but Utopia and The Vicar toured all year long and in September were joined by Princess Ida, with Gridley as King Hildebrand. In December 1896 Gridley left "D" Company for a D'Oyly Carte tour of South Africa (December 1896-June 1897). He would appear there as Dick Deadeye in Pinafore, the Sergeant of Police in Pirates, Private Willis in Iolanthe, Pooh-Bah in Mikado, Shadbolt in Yeomen, Don Alhambra in The Gondoliers, King Paramount in Utopia Limited, and Ludwig in The Grand Duke. He may also have appeared as the Judge in Trial by Jury, Doctor Daly in The Sorcerer, and Archibald Grosvenor in Patience, but the record of this tour in incomplete.
The South Africa Company returned to England as D'Oyly Carte Opera Company "B," commencing to tour Trial, Sorcerer, Pirates, Iolanthe, Mikado, Yeomen, and Gondoliers in July 1897, Gridley as the Learned Judge, Dr. Daly, the Sergeant, Willis, Pooh-Bah, Shadbolt, and Don Alhambra respectively. In August, Trial, Sorcerer, Pirates, and Gondoliers were dropped, and the Company added His Majesty (a recent Savoy failure) to the tour. Gridley would play King Mopolio in that one. His Majesty was dropped in September and the Trial/Sorcerer double-bill restored the following month. Gridley would continue to tour with Company "B," playing the Judge, Dr. Daly, the Sergeant, Private Willis, Pooh-Bah, and Shadbolt until June 4, 1898, when the Company was disbanded.
When his singing career ended, Gridley became business manager for D'Oyly Carte Opera Company "C," a position he held for two years, from June 1898 to June 1900.
---
G Index | "Who Was Who" Homepage
---