THE D'OYLY CARTE OPERA COMPANY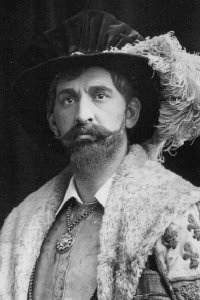 Joseph Griffin as the Lieutenant of the Tower in The Yeomen of the Guard
Joseph Griffin (1923-31)
[Born 5 Sep 1886, died Jan 1963]
Joseph Griffin made his London Stage debut as Veit Pogner in a single matinee performance of Wagner's Die Meistersinger at Covent Garden on October 28, 1922. He joined the D'Oyly Carte Repertory Opera Company in July 1923 and for the next eight seasons played smaller principal baritone and bass-baritone roles with the Company.
Four of his parts, the Notary in The Sorcerer, Samuel in The Pirates of Penzance, King Hildebrand in Princess Ida and Old Adam Goodheart in Ruddigore, he would play every year their operas were performed (though he shared Hildebrand with Leo Sheffield in 1923-24:Griffin's first season). He also played Sir Richard Cholmondeley, the Lieutenant of the Tower in The Yeomen of the Guard, at the beginning (sharing it with Sydney Granville his first season), but yielded it to Leslie Rands in June 1927 when Rands transferred in from the disbanded "New" Company. During that first season, Griffin also filled in on occasion in the larger roles of Captain Corcoran in H.M.S. Pinafore, the Sergeant of Police in The Pirates of Penzance, Private Willis in Iolanthe, Pooh-Bah in The Mikado, and Don Alhambra in The Gondoliers.
In August 1924 he added the Usher in Trial by Jury to his regular duties, and this part, too, he kept for the remainder of his career, though he shared it often with others (with Sydney Granville, 1924-25; Darrell Fancourt, 1926-27; and Martyn Green, 1927-28). He also shared Sergeant Bouncer in Cox and Box with Darrell Fancourt, but only for the two seasons spanning 1924-26.
In August 1926 Joseph Griffin added Bill Bobstay in H.M.S. Pinafore following the departure of Henry Millidge. In July 1929 he was able to reclaim the Lieutenant in Yeomen. These roles, as well, he retained until he left the Company in June 1931.
After World War II, Griffin participated in the "Life of Gilbert and Sullivan" broadcasts on the BBC, in which he sang various selections from the operas, along with several of his former D'Oyly Carte collegues including Leo Sheffield and Winifred Lawson.
---
G Index | "Who Was Who" Homepage
---