THE D'OYLY CARTE OPERA COMPANY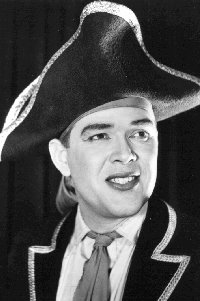 Neville Griffiths as Frederic in The Pirates of Penzance
Neville Griffiths (1949-58)
[Born Tumble, Carmarthenshire, Wales 15 Oct 1923, died Woodmancote, nr Cheltenham 21 Oct 2010]
Tenor Neville Griffiths joined the D'Oyly Carte Opera Company chorus in April 1949. In August of that year he was given the small part of First Yeoman in The Yeomen of the Guard, while understudying several principal tenor roles. He went on as an occasional substitute during the 1949-50 season as Frederic in The Pirates of Penzance and Nanki-Poo in The Mikado.
Griffiths was made principal tenor in August 1950 and during the 1950-51 season appeared regularly as Ralph Rackstraw in H.M.S. Pinafore, Frederic, Nanki-Poo, and Marco in The Gondoliers, sharing the last role with Leonard Osborn. For the next two seasons his duties were limited to Ralph, Frederic, and Nanki-Poo, but in September 1953 he reclaimed Marco. He played his four roles regularly for his last five seasons with the Company, finally yielding Frederic and Nanki-Poo to Tom Round who returned in July 1958. Neville Griffiths then left the Company at the end of the season, later that month.
He may be heard on three D'Oyly Carte/Decca recordings from the early 1950s, in roles he never played on stage: the 1950 Yeomen of the Guard (in which he sings Leonard Meryll as well as First Yeoman), the 1951 Patience (in which he sings most of the music of the Duke of Dunstable due to the indisposition of Leonard Osborn), and the 1953 Sorcerer (as Alexis). While Decca recorded none of his own major parts during his tenure, he did get to sing Nanki-Poo on a 1951 BBC radio broadcast.
During his stay with the Company, Griffiths and Frederick Sinden produced a series of photo postcards of D'Oyly Carte principals in costume. They were called "G & S Photos" (for Griffiths and Sinden, of course!).
Neville Griffiths married Elizabeth Howarth, D'Oyly Carte contralto chorister and small part player, in 1953. Both continued to perform in opera after their D'Oyly Carte days, with Sadler's Wells Opera in the early 1970s, and as recently as 1986 in the English National Opera chorus.
---
G Index | "Who Was Who" Homepage
---