THE D'OYLY CARTE OPERA COMPANY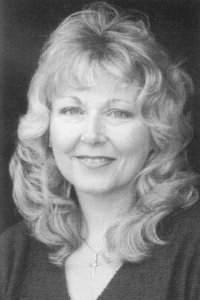 Rosalind Griffiths
Rosalind Griffiths (1972-75)
[Born Oswestry]
Rosalind Griffiths joined the D'Oyly Carte Opera Company chorus in September 1972. After a season she was promoted:taking two small parts (Lady Ella in Patience and Fleta in Iolanthe) in July 1973, and also filling in on occasion during the 1973-74 season as Fiametta in The Gondoliers and Josephine in H.M.S. Pinafore. On August 9, 1974, she married John Broad, D'Oyly Carte bass chorister and small part player.
When the new season began in September 1974, Rosalind Griffiths added Isabel in The Pirates of Penzance to her repertoire, and in December assumed two more tiny roles (Ada in Princess Ida, just revived, and First Bridesmaid in Trial by Jury, on the departure of Janet Brandreth). During the 1975 Centenary season she appeared as Phylla in Utopia Limited, and Martha in the concert performance of The Grand Duke. She is credited as Fleta in the 1974 D'Oyly Carte recording of Iolanthe, and Phylla in the 1976 Utopia.
She and her husband left the Company in August 1975. She has since been appointed as a tutor in singing at Loughborough University, and performs frequently in oratorio and concerts throughout the Midlands. She occasionally appears with former D'Oyly Carte colleagues as in the 2000 Gilbert & Festival concert "Together Again" at Buxton.
---
G Index | "Who Was Who" Homepage
---