THE D'OYLY CARTE OPERA COMPANY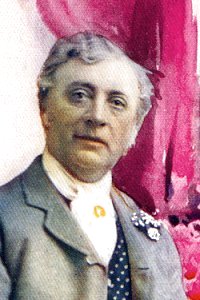 Charles Groves as Christopher Blossom in The Elder Miss Blossom
Charles Groves (1881)
[Born Limerick, Ireland 6 Dec 1843, died Pulborough, Sussex 8 Jul 1909]
Charles Groves was a well-known Victorian and Edwardian comedic actor for whom D'Oyly Carte experience was a mere footnote. While in America in 1881, he was engaged by D'Oyly Carte to tour with Carte's Second American Billee Taylor Company as Sir Mincing Lane. The tour began in April 1881 but Groves appears to have left the Company in May after they arrived in New York.
The son of a provincial actor, Charles Groves got his start in the theatre with his father's company in 1858. He made his London Stage debut in 1871 in the farce The Lost Letter at Covent Garden Theatre, and worked steadily in London, the provinces, and America for many years and in all sorts of roles, but the one part above all others for which he is remembered is that of Gregory Goldfinch in Sydney Grundy's A Pair of Spectacles, played to perfection opposite John Hare for the first time at the Garrick in February 1890. They played it many times in many theatres thereafter.
Groves would perform all his life:his last appearance was in Beerbohm Tree's 1909 all-star revival of The School for Scandal.
---
G Index | "Who Was Who" Homepage
---