THE D'OYLY CARTE OPERA COMPANY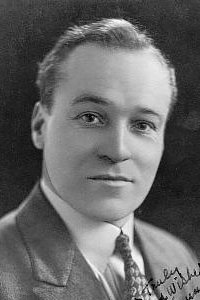 David Grundy
David Grundy (1926, 1930-31)
[Born c.1896]
David Grundy made his London Stage debut in grand opera at the Old Vic in November-December 1924, returning for a second engagement in late 1925 and early 1926.
Later that year he joined the D'Oyly Carte Repertory Opera Company, giving one or more trial performances in June as Frederic in The Pirates of Penzance. Sidney Pointer left at the end of the season, and in August 1926 Grundy took several tenor roles:the Defendant in Trial by Jury, Earl Tolloller in Iolanthe, Cyril in Princess Ida, and Nanki-Poo in The Mikado on a more or less regular basis. There was a brief absence from the Repertory Company in October 1926 when Grundy joined the "New" Company to give a trial performance as Mr. Box in Cox and Box, a role he then played with the Repertory Company thereafter.
David Grundy left the Repertory Company after the 13-week London Season at the Princes Theatre rather than accompany the Company to Canada. Over the next few years Grundy would return to the Old Vic on several occasions.
In January 1930, following Derek Oldham's departure, Grundy rejoined the D'Oyly Carte Opera Company (there was only one at this point) and over the next year appeared often as Box, the Defendant, Tolloller, Cyril, and Nanki-Poo. He also shared Ralph Rackstraw in H.M.S. Pinafore with Charles Goulding during his first months back. But Grundy left again in January 1931 and John Dean moved into his roles.
After leaving the D'Oyly Carte Opera Company, David Grundy pursued a career in concerts, advertising in the Gilbert & Sullivan Journal that he was "at liberty" and offering a "full G & S" repertoire.
---
G Index | "Who Was Who" Homepage
---