THE D'OYLY CARTE OPERA COMPANY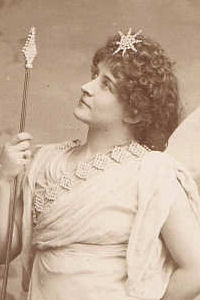 Julia Gwynne as Leila in Iolanthe
Julia Gwynne (1879-83, 1883)
[Born Marylebone, Islington c.1856, died London 10 Jun 1934]
Julia Gwynne, whose real surname was Putney, was with the D'Oyly Carte Opera Company at the Opera Comique in 1879, appearing in the chorus of H.M.S. Pinafore and taking over as Maria in Desprez & Cellier's companion piece, After All!, in July when Jessie Bond left the cast prior to traveling to America. After All! played through March 1880, and when The Pirates of Penzance was given its London premiere in April Julia Gwynne was cast as Edith. She played Edith until Miss Bond returned from America in July, at which point Miss Gwynne took up the smaller part of Kate, as well as that of Mrs. Liverby in Desprez & Cellier's new curtain raiser In the Sulks.
When Patience was produced at the Opera Comique in April 1881, Julia Gwynne created the part of the Lady Saphir. She would continue to appear as Mrs. Liverby when In the Sulks was part of the program:in April and May, and again in October 1881. She played Saphir throughout the run of Patience at the Opera Comique and the Savoy until November 1882, when Iolanthe was launched. She created the part of Leila in Iolanthe, but left the Savoy and the D'Oyly Carte in February 1883.
During her absence, Julia Gwynne created the part of Dmitri in Merivale's adaptation of Sardou's Fedora (Haymarket, May 1883). She returned to the Savoy in the summer, taking up Leila again in August, but only until October 1883 when it appears she left the Company for the final time.
D'Oyly Carte musical director François Cellier thought she was the "life and soul" of the Company, but stage director Richard Barker was constantly fining Miss Gwynne for laughing on stage (she describes it as her "natural amiable expression") or for some unauthorized costume augmentation. She once told W. S. Gilbert that the Savoy Theatre was "built out of her fines."
Julia Gwynne's roles with the D'Oyly Carte may have been her only ventures into musical theatre. Her other parts from 1877 to 1887 appear to have been in legitimate theatre.
She married George Edwardes while with the D'Oyly Carte. Edwardes was Carte's business manager from 1881 to 1885. He would go on to greatness as a theatrical manager at the Gaiety, Daly's and elsewhere, to the point where he has been described as the "inventor of musical comedy."
Julia Gwynne's sister Emma appeared on tour with Carte's No.1 "Iolanthe" Company in 1884.
---
G Index | "Who Was Who" Homepage
---