THE D'OYLY CARTE OPERA COMPANY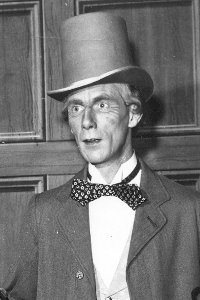 Jack Habbick in Trial by Jury
Jack Habbick (1951-61)
[Born Scotland c.1918, died 15 Dec 1975]
Jack Habbick joined the D'Oyly Carte Opera Company in September 1951 as a bass chorister. He immediately assumed the role of Foreman of the Jury in Trial by Jury, and also filled in on occasion that season as Go-To in The Mikado. In April 1954 season he assumed Bob Beckett in H.M.S. Pinafore (following the departure of Leon Greene), before George Cook took the both Beckett and the Foreman in July 1954. In the two seasons spanning 1954-56 Habick would fill in on occasion as the Foreman for John Banks, and 1955-56 he played Bob Beckett on nights when Cook played Bill Bobstay.
In May 1956, with Cook established as the Boatswain, Habbick took over Bob Beckett. He would play Beckett regularly until April 1958, then as an occasional substitute for the rest of his career. Habbick also filled in on at least one occasion as Giorgio in The Gondoliers in March 1961. Jack Habbick retired from the chorus in July 1961 to become the D'Oyly Carte's stage manager, replacing Jerome Stephens.
While no longer in the chorus, Habbick was seen on stage from time to time as a marine in H.M.S. Pinafore, and even as a ghost in Ruddigore. He served as stage manager until July 1966, at which point he retired and was succeeded by Peter Riley.
Habbick then relocated to Brighton, taking over a business there and stage managing some local theatrical productions. He eventually gave up the business and went to work for the British Department of Social Security, but was stricken with cancer and died after a lengthy hospitalization in December 1975.
---
H Index | "Who Was Who" Homepage
---