THE D'OYLY CARTE OPERA COMPANY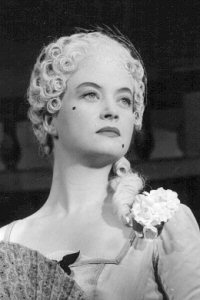 Shirley Hall as Casilda in The Gondoliers
Shirley Hall (1951-53)
[Born 10 Jan 1919, died 30 Jun 2011]
Soprano Shirley Hall began singing training in Edinburgh while serving with the A.T.S. in 1945. She obtained a scholarship to attend the Royal Academy of Music a year later, and eventually sang in oratorio. She first appeared on the London Stage in the "intimate revues" Tuppence Colored (1948) and Oranges and Lemons (1949) at the Globe. (It is unlikely that she participated in the Flanders and Swann's sketch "In the D'Oyly Cart," a wicked send-up of the Company she would join a few years later.)
After appearing as "Principal Boy" in a York pantomime, she played the part of Polly in Gay's The Beggar's Opera at the Alexandra Theatre, Birmingham in 1951, and then in September of that year was engaged by D'Oyly Carte Opera Company as principal soprano, replacing Margaret Mitchell.
For the next season-and-a-half, Miss Hall sang the Plaintiff in Trial by Jury, Phyllis in Iolanthe, Yum-Yum in The Mikado, Rose Maybud in Ruddigore, and Casilda in The Gondoliers. She left the D'Oyly Carte in January 1953.
Her only known appearance on the London Stage post-D'Oyly Carte was as Sally Walker in Wild Thyme, a musical play by Philip Guard & Donald Swann (Duke of York's, July-August 1955).
She was married to Oliver Neville, a member of the D'Oyly Carte chorus for a portion of the 1951-52 season.
---
H Index | "Who Was Who" Homepage
---