THE D'OYLY CARTE OPERA COMPANY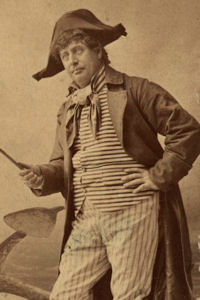 William Hamilton as Christopher Crab in Billee Taylor
William Hamilton (1881, 1881-82)
William H. Hamilton performed in major theatres and opera houses on the East Coast of the United States from at least 1873, when he appeared as Antoine in The Wandering Jew in New York's Grand Opera House, until around 1890.
In 1879-80 he appeared as Zapeter in Gilbert & Clay's Princess Toto in New York and Boston in a cast that included Leonora Braham in the title role, and in September 1880 Hamilton took the title role in Alfred Cellier's The Sultan of Mocha with Blanche Roosevelt's Company at New York's Union Square Theatre.
Hamilton made his D'Oyly Carte debut on February 19, 1881, when he appeared as Christopher Crab in the D'Oyly Carte and E. E. Rice's presentation of Stephens & Solomon's Billee Taylor at New York's Standard Theatre. He would play the part for the duration of the Company's run, until June 1881, in New York and Boston.
He wasn't in the D'Oyly Carte Patience when it opened at the Standard in September 1881, but he joined the cast in late October as Colonel Calverley, playing it until the end of the run in March, meanwhile taking up Martin Magruder in Claude Duval for Carte & Rice at the same theatre (March 1882). It was his last engagement under D'Oyly Carte auspices, but not his last with Gilbert & Sullivan. He left the cast of Claude Duval to accept a touring engagement with the Boston Comic Opera Company in which he played his old role in Billee Taylor and the Sergeant of Police in The Pirates of Penzance.
In August 1885, Hamilton was hired by James Duff, who had hoped to steal D'Oyly Carte's thunder with a rival Mikado at the Standard Theatre. It didn't match up. Duff's version, with William Hamilton in the title role, ran until November and then left for Chicago. Hamilton's name continued to appear in New York programs sporadically over the next eight years. In March and April 1893 he appeared in New York as Don Alhambra in a Duff production of The Gondoliers at the Casino Theatre.
---
H Index | "Who Was Who" Homepage
---