THE D'OYLY CARTE OPERA COMPANY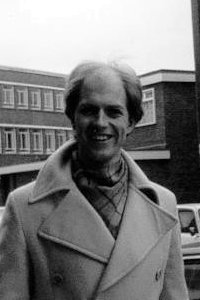 Michael Hamlett
Michael Hamlett (1980-82)
[Born Bath]
Michael Hamlett studied drama at Trent Park and, after teaching for a few years, earned a singing scholarship at the Royal Academy of Music.
From there he joined the D'Oyly Carte Opera Company as tenor chorister in September 1980, serving until the last days of the Company's existence in February 1982. During his tenure, Hamlett filled in on occasion in the small named parts of First Citizen and Second Citizen in The Yeomen of the Guard.
He subsequently performed in the English premiere of Wheeldon's ballet Commedia at Sadler's Wells, then moved to Germany at the urging of conductor James Lockhart. In Europe he has performed many Benjamin Britton operas, as well as those by Janacek, Verdi, and Mozart. He also played Judas in Jesus Christ Superstar.
Hamlett went on to found his own theatre in Koblenz, producing "first German" opera performances there. Still singing, his latest role was Spalanzani in The Tales of Hoffmann.
---
H Index | "Who Was Who" Homepage
---