THE D'OYLY CARTE OPERA COMPANY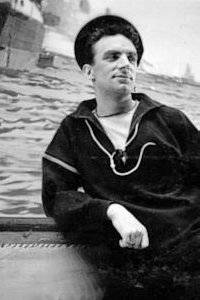 Thomas Hancock in H.M.S. Pinafore
Thomas Hancock (1937-40, 1946-51)
[Born Stoke-on-Trent 31 Jan 1910]
Tenor Thomas W. Hancock's first recorded appearance on the London Stage came in the chorus of Hammerstein & Kern's musical play Three Sisters at Drury Lane, April-June 1934.
He joined the D'Oyly Carte Opera Company in August 1937, taking his first named part as First Yeoman in The Yeomen of the Guard in early 1938, then in March of that year taking over the Defendant in Trial by Jury and Leonard Meryll in Yeomen, upon the departure of Eric Palmer. Hancock later added Francesco to his repertoire (1939), but shared all three roles with other tenors before leaving the Company in 1940, presumably for wartime service.
Hancock returned to the D'Oyly Carte fold in February 1946. Over the next five-and-a-half years he appeared regularly as Leonard (1946-51) and First Yeoman (1946 only) in The Yeomen of the Guard, Francesco in The Gondoliers (1946-51), and Mr. Box in Cox and Box (1948-50). He may be heard as Francesco on the Company's 1950 LP recording of The Gondoliers.
As a tenor understudy Thomas Hancock also filled in on occasion as Frederic in The Pirates of Penzance (1948-50), the Duke of Dunstable in Patience (1950), Earl Tolloller in Iolanthe (1948, 1950), Richard Dauntless in Ruddigore (1948-50), and Luiz in The Gondoliers (1950). He is reported to have appeared as Colonel Fairfax in Yeomen as well, though precisely when is unclear.
Hancock was married for a time to D'Oyly Carte soprano Margaret Mitchell.
---
H Index | "Who Was Who" Homepage
---