THE D'OYLY CARTE OPERA COMPANY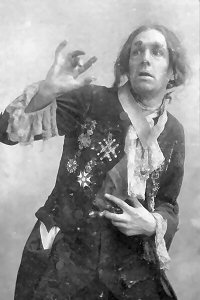 Lindsay Harman as Grand Duke Rudolph in The Grand Duke
Lindsay Harman (1890-1901)
[Born Bromley, Kent 9 Aug 1865, died Hunstanton, Norfolk Jan or Feb 1948]
Robert Lindsay Harman joined the D'Oyly Carte Opera Company in time to serve in the chorus the first New York production of The Gondoliers at the Park Theatre in January 1890. He remained with the Company through its rebirth at Palmer's Theatre in February, and its return to the British Isles as "D" Company in May. In July, still in the chorus, he transferred to D'Oyly Carte Opera Company "C," presenting Gondoliers alone until December 1890, when The Mikado was added to the repertoire. During 1891, The Yeomen of the Guard was added in January and Iolanthe in October. Harman's duties that year were primarily as a chorister, but he did go on in his first named part, as Pish-Tush in The Mikado, during the year.
In 1892 Harman transferred to Carte's "E" Company, and in January 1893 filled in for a spell for Frank Lynne as the Earl of Mountararat in Iolanthe.
His next assignment took him back to America in the chorus of Carte's American Utopia Limited Company, performing in New York and Boston, March-June 1894. Upon returning to England in late June, he first joined Carte's "D" Company as a chorister, transferred to the "C" Company chorus the following month, then shifted again to the newly-formed "A" Company, touring small towns from July to December 1894 in Utopia Limited. Due to the indisposition of W. H. Leon, Harman played Scaphio for part of the tour.
In December 1894, Harman returned to Company "E":this time as small part played as well as chorister. The Company played H.M.S. Pinafore and Utopia Limited (among other works) until March 1895, with Harman as Bill Bobstay in Pinafore and Captain Corcoran in Utopia. From February to August 1895, his duties included Escatero in The Chieftain. In March 1896 he got his next named role, Viscount Mentone in The Grand Duke, which he played through the run ending April 1897. During the last month of The Grand Duke he filled in for a time for Walter Summers in the title role of Grand Duke Rudolph. In June 1897, Harman took over as Pish-Tush in The Mikado from the departing Frank Crimp, and the same month appeared as the Notary when The Sorcerer was added to the repertoire. In July 1897, H.M.S. Pinafore was reintroduced with Harman as Bob Beckett. He would fill in briefly as Bill Bobstay in November.
Harman began 1898 with a small part in each Company "E" opera:the Notary, Bill Bobstay, Pish-Tush, and Second Yeoman in The Yeomen of the Guard. In June, when The Sorcerer was replaced by The Grand Duchess of Gerolstein, he played Captain Hockheimer, and in August 1898 he filled in briefly for Fred W. Pattrick as Wilfred Shadbolt in Yeomen.
In January 1899 The Sorcerer was restored to the Company "E" repertoire, and Harman's roles were Bobstay, Pish-Tush, Second Yeoman, Hockheimer and the Notary. Sorcerer and Grand Duchess were dropped in April, but Harman picked up Kill-Joy Candlemas in Haddon Hall when Grundy & Sullivan's opera was revived (October-November 1899). In January 1900 he picked up a new role:the Counsel for the Plaintiff in Trial by Jury, when Helier Le Maistre moved up to Usher.
From February 12, 1900, forward Company "E" played The Rose of Persia exclusively, with Harman as the Grand Vizar, until he left the Company in January 1901.
Harman then embarked on a new career as producer of comic operas for several amateur operatic societies. In 1924, Harman wrote a book of reminiscences, "A Comic Opera Life" (West Hartlepool, William Barlow, 1924). The last third of his book deals with his experience as a producer.
In "A Comic Opera Life," Harman claims to have played a number of parts with the D'Oyly Carte Opera Company that aren't documented elsewhere "as understudy or principal." These include Dick Deadeye and Captain Corcoran in H.M.S. Pinafore, Sir Marmaduke Pointdextre in The Sorcerer, Giuseppe in The Gondoliers, Pooh-Bah and the Mikado in The Mikado, and Rupert Vernon in Haddon Hall.
He was married for a time to fellow D'Oyly Carte artist Alice Pennington. That marriage had ended, and Harman had remarried, by the time his book was published.
---
H Index | "Who Was Who" Homepage
---