THE D'OYLY CARTE OPERA COMPANY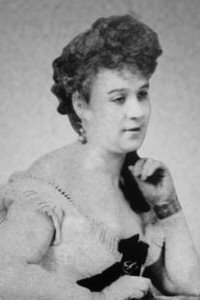 Fanny Harrison
Fanny Harrison (1879-83, 1884, 1887-88, 1890)
[Born London 1838 or 1839, died Margate, Kent 15 Feb 1909]
Fanny Harrison joined Mr. D'Oyly Carte's "First 'Pinafore' Company" as Little Buttercup on tour November 1879. The following month she transferred to Mr. D'Oyly Carte's "Second 'Pinafore' Company" as their Buttercup. It was with the "Second 'Pinafore' Company" in Paignton on December 30 that she was the first artist to play Ruth in the copyright performance of The Pirates of Penzance.
She played Buttercup with "Second 'Pinafore'" (later "A" Company) through December 1880, then transferred to Carte's "D" (later "E") Company later that month as Ruth in Pirates, appearing as the Maid-of-all-work until November 1881. "E" Company then became Carte's No. 2 "Patience" Company, with Miss Harrison as the Lady Jane in the aesthetic opera. In September 1882 she moved to Carte's "B" Company as Buttercup and Ruth, then later that month switched to Carte's No. 1 "Pirates" Company, where she played Ruth until December 1882. On Boxing Day 1882 she appeared as the first provincial Queen of the Fairies with Carte's No. 2 "Iolanthe" Company, then in February transferred to the newly-formed No. 1 "Iolanthe" Company where she play the Fairy Queen until December 1883.
Miss Harrison was absent from the Company from December 1883 until July 1884, when she returned to the No. 1 "Iolanthe" Company as Queen of the Fairies again. When the Company was disbanded in December 1884 she left the Carte organization again:this time for three years.
She returned again in December 1887, appearing as Buttercup and Ruth with D'Oyly Carte Opera Company "E" until June 1888. After yet another absence (during which she toured for a time in a comic opera called Paola) she returned to play the Duchess of Plaza-Toro in The Gondoliers with Companies "C" (March-April 1890) and "E" (May-October 1890). It was her last part with the Company.
Her daughters, Phoebe and Katie Cohen, also toured with the D'Oyly Carte organization in the 1880s.
---
H Index | "Who Was Who" Homepage
---