THE D'OYLY CARTE OPERA COMPANY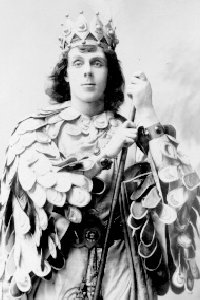 J. Bowden Haswell as Calynx in Utopia Limited
J. Bowden Haswell (1887-95)
J. Bowden Haswell was in the chorus of Mr. D'Oyly Carte's "E" Company, touring The Mikado in 1887. Later that year he transferred to Carte's "B" Company where he was one of the ancestors in Ruddigore.
By October 1888 he was in London for the first production of The Yeomen of the Guard at the Savoy, in the chorus of citizens, and in August 1889 took the part of Jim in the curtain raiser Mrs. Jarramie's Genie, replacing A. Medcalf. (Medcalf replaced John Wilkinson as the Genie, while Wilkinson replaced the departing George Grossmith as Jack Point in Yeomen.)
Haswell reverted to basic chorus duties for The Gondoliers (December 1889-June 1891) and The Nautch Girl (June 1891-January 1892), but took the part of Peter Piper in Grundy & Solomon's The Vicar of Bray (January-June 1892). During the run of Haddon Hall (September 1893-April 1894), Haswell replaced Rudolph Lewis as Sing-Song Simeon in February, and also filled in on occasion for Rutland Barrington as Rupert Vernon. In March 1894, Mr. Jericho was added to the Savoy bill and Haswell played the title role.
For Jane Annie (May-July 1893), Haswell was the First Student. He also resumed Mr. Jericho when the companion piece of that name returned to the bill in June in support of Jane Annie. He next created the small part of Calynx in Utopia Limited (October 1893-June 1894). It is presumed he returned to the chorus for Mirette (July-August, October-December 1894), for he then created his last role in a Savoy opera:that of Blazzo in Burnand & Sullivan's The Chieftain (December 1894). Haswell left the Savoy and was replaced as Blazzo by F. Morrison in January 1895.
---
H Index | "Who Was Who" Homepage
---