THE D'OYLY CARTE OPERA COMPANY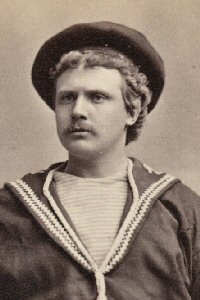 Alonzo Hatch as Ralph Rackstraw in H.M.S. Pinafore
Alonzo Hatch (1882-83)
The first New York production of H.M.S. Pinafore (unauthorized) had been running at the Standard Theatre for six weeks when Alonzo Hatch took over as the new Ralph Rackstraw in February 1879. A popular concert artist, this would be his first theatrical exposure to a New York audience. It must have been a success for he was still going strong in October, and was soon to appear in a number of comic operas throughout New York and environs. His roles included the Duke of Dunstable in Patience with Haverly's Opera Company on tour December 1881-March 1882. He also appeared as the Duke at the Bijou Opera House in June 1882.
Hatch was then engaged to play Earl Tolloller with D'Oyly Carte's Second American Iolanthe Company at the Lyceum Theatre, Philadelphia, for six weeks beginning December 5, 1882. It would be his only appearance with a D'Oyly Carte Company.
Alonzo Hatch revisited his roles as Ralph and the Duke with the Blanche Corelli Opera Company in July 1884, appearing that month at New York's Cosmopolitan Theatre. In July 1885 he was Nanki-Poo in America's first authorized production of The Mikado, at Uhrig's Cave, St. Louis, under the management of John T. Ford.
Hatch continued to appear sporadically in New York area opera and concert programs until 1888. His last appearance there was with the Boston Ideal Opera Company in The Daughter of the Regiment.
---
H Index | "Who Was Who" Homepage
---