THE D'OYLY CARTE OPERA COMPANY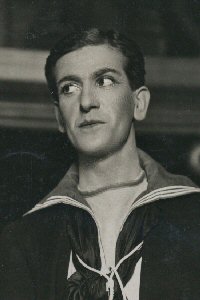 James Hay as Ralph Rackstraw in H.M.S. Pinafore
James Hay (1913-15, 1919-20, 1922, 1922-23, 1925-26)
[Born Clare, South Australia August 1885]
Peter James Hay began his singing career in the choir of the Anglican Cathedral in Perth, Western Australia. After musical training in London, he joined the D'Oyly Carte Principal Repertory Opera Company chorus in or around July 1913. By October of that year he was one of two lead tenors (along with Dewey Gibson), replacing Henry Herbert and Strafford Moss. Hay toured until March 1915, playing Ralph Rackstraw in H.M.S. Pinafore, Earl Tolloller in Iolanthe, Prince Hilarion in Princess Ida, Nanki-Poo in The Mikado, and Colonel Fairfax in The Yeomen of the Guard. He also shared Frederic in The Pirates of Penzance with Gibson in 1913-14.
After the war, Hay returned to the Repertory Company in September 1919, taking up Ralph, Frederic, the Duke of Dunstable in Patience, Hilarion, Nanki-Poo, and Fairfax as guest artist before leaving once more in February 1920 to return to his native Australia.
In 1920-21 Hay toured Australia appearing in at least eight Gilbert & Sullivan operas with the Tait & Williamson organization. He returned to England and the D'Oyly Carte, making six guest appearances as Ralph at the Princes Theatre, London, in January 1922, and later that month, three as Hilarion. He also filled in on one occasion during the week of March 27, 1922, but his role is unclear. In July 1922 Hay would rejoin the D'Oyly Carte on a full-time basis, playing Alexis in The Sorcerer, The Duke of Dunstable, Tolloller, Hilarion, Nanki-Poo, Richard Dauntless in Ruddigore, Fairfax, and Marco in The Gondoliers (shared with Gibson) with the Repertory Company. He would leave the D'Oyly Carte once again at the end of the season (June 1923).
In May 1924 Hay would appear at the Lyceum Theatre, London as Viscount Camille de Jolidon in a revival of Lehar's The Merry Widow. Although away from the D'Oyly Carte at the time, he was engaged by HMV to sing Ralph Rackstraw on the 1924 recording of H.M.S. Pinafore. However, on several of the numbers on that set, Ralph is sung by Walter Glynne.
John Hay rejoined the D'Oyly Carte organization for the fifth and last time in July 1925, touring a limited repertoire of four operas with the D'Oyly Carte "New" Opera Company. He played the Duke in Patience, Tolloller, Nanki-Poo, and Richard Dauntless until January 1926 when he left the D'Oyly Carte for the final time.
Once more Hay returned to Australia where he toured again in Gilbert & Sullivan from 1926 to 1928. His appearance as Richard Dauntless at His Majesty's Theatre, Sydney, in August 1927 marked the Australian premiere of Ruddigore.
---
H Index | "Who Was Who" Homepage
---