THE D'OYLY CARTE OPERA COMPANY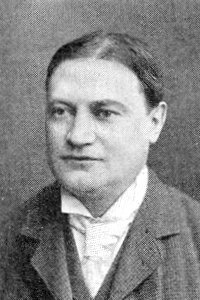 Arthur Helmore
Arthur Helmore (1881)
[Born Chelsea 8 Apr 1859, died 14 Jun 1941]
Arthur Helmore was the son of the Reverend Thomas Helmore, Arthur Sullivan's mentor from his days at the Chapel Royal. Young Helmore made his first appearance on the stage in the chorus of The Pirates of Penzance with Mr. D'Oyly Carte's "E" Company in Bath, March 1881, and in early April made a few appearances as Major General Stanley. He left "E" Company and the Carte organization shortly thereafter.
He next appeared in his brother Walter's drawing-room sketch, Another Cup, at the Imperial Theatre, London (April 16, 1881). Later that year he toured in The Colonel, in which he appeared before the Queen in a command performance at Abergeldie (October 1881). Helmore was equally successful as a humorous lecturer and drawing-room entertainer, but he frequently went on stage and, in the early 1880s toured with C. H. Hawtrey:a tour in which he would appear in two Gilbert plays, Tom Cobb (as old Mr. Effingham) and On Guard (as Grouse).
Over the years, he would appear at the Crystal Palace, Adelphi, Hippodrome, Scala, Globe, and many other London theatres. His most famous role would be Reverend Robert Spaulding in The Private Secretary. It was a part he created in Cambridge in 1883, and would appear in nearly 2,000 times. His last appearance on the London Stage was as Louis Chamousset in a farce called Zozo (Little and Strand Theatres, August-September 1922).
---
H Index | "Who Was Who" Homepage
---