THE D'OYLY CARTE OPERA COMPANY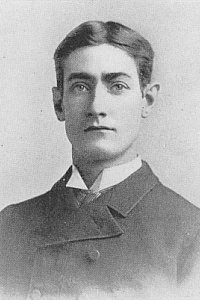 Joseph W. Herbert
Joseph W. Herbert (1885-86, 1887, 1890)
[Born Liverpool 27 Nov 1863, died New York City 18 Feb 1923]
Joseph William Herbert emigrated to America as a teenager, settling in Chicago, where he joined a local Church Choir Company as an amateur chorister. During the Company's production of Iolanthe, young Herbert was called upon to fill in for the professional engaged to play the Lord Chancellor. Herbert then toured as a leading comedian with the Acme Comic Opera Company, appearing in a variety of comic operas including H.M.S. Pinafore, The Pirates of Penzance, Patience, and Iolanthe.
He was America's first Ko-Ko in Sydney Rosenfeld's pirate production of The Mikado that debuted in Chicago on July 6, 1885, and played briefly at New York's Union Square Theatre on July 20, 1885, nearly a month before the arrival of the D'Oyly Carte. Only one performance was given in violation of a temporary injunction. The cast was brought back on August 17, just two days before the Carte Mikado opening, but lasted just two weeks at the Union Square before shifting to the Grand Opera House in Brooklyn. Mr. Herbert was later engaged by D'Oyly Carte and John Stetson to play Ko-Ko in New York and New England with Carte's Third American Mikado Company (November 1885-May 1886).
Herbert continued to work for Stetson. In the autumn of 1886, and he played in Carte-sanctioned productions of Princess Ida (as King Gama) and The Mikado (as Ko-Ko) in New York (November-December 1886) and Patience in Boston (January 1887, as Reginald Bunthorne). From February to May 1887, still with Stetson, he appeared under the D'Oyly Carte name again, touring the Northeastern United States first as King Gama in Princess Ida, then as Robin Oakapple with Carte's Second American Ruddygore Company, in March and April. In April 1887 he transferred to Carte's Third American Ruddygore Company, this time as Sir Despard, though be briefly returned to playing Robin while the Company was in Rochester, New York, in early May.
Herbert's only other appearance under D'Oyly Carte auspices came in March 1890 when he took over briefly from Henry A. Lytton as the Duke of Plaza-Toro in Carte's recast production of The Gondoliers at New York's Palmer's Theatre.
For the next twenty-five years he continued to appear regularly in comic opera and musical comedy in America. Herbert was also a successful dramatic author and lyricist. His first work was a comedy, After the Ball (1893), and his first musical was The Birth of Venus (1895), but it was in burlesque where he enjoyed his initial successes:with Thrillby (1895), a burlesque of Trilby; and Geezer (1896-97), a parody of The Geisha for Weber and Fields. Between 1903 and 1915 he also worked as a director, including a 1910 revival of The Mikado. From 1917 to 1919 Herbert appeared in at least six silent films.
---
H Index | "Who Was Who" Homepage
---