THE D'OYLY CARTE OPERA COMPANY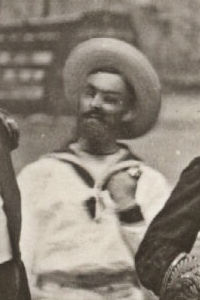 Fred Hewett as Bob Beckett in H.M.S. Pinafore
Fred Hewett (1907-13)
Fred Hewett joined the D'Oyly Carte Repertory Opera Company as a bass chorister, first appearing in a named part as Guron in Princess Ida, a part he shared with Joe Ruff during the July 1907-April 1908 touring season.
From April 1908 to March 1909 he participated in D'Oyly Carte's Second London Repertory Season at the Savoy. For The Mikado (opening April 1908) he was initially in the chorus, but took over the part of Go-To from the departing Fred Drawater in October. In July 1908, H.M.S. Pinafore was a revived with Hewett as Bob Beckett. He took the part of Antonio when The Gondoliers was added in January 1909, and for The Yeomen of the Guard (revived March 1, 1909) he split his time between Second Citizen and Second Yeoman. He filled in on occasion as John Lloyd in A Welsh Sunset, the Fenn & Faraday curtain raiser that accompanied Pinafore, in late August and early September 1908, and when A Welsh Sunset was staged later in the season (December 1908-February 1909) with The Pirates of Penzance, Hewett took Lloyd for his own. Hewett would also fill in on occasion for Leo Sheffield as Private Willis in Iolanthe in October 1908, for Leicester Tunks as Bill Bobstay in H.M.S. Pinafore in January 1909, and for Tunks as the Mikado in The Mikado in February 1909.
Hewett rejoined the Repertory Company on tour in April 1909 and took up the Associate in Trial by Jury, Bob Beckett in H.M.S. Pinafore (shared with George Sinclair), Guron in Princess Ida, Second Yeoman in The Yeomen of the Guard, and Antonio in The Gondoliers, filling in on occasion as Giuseppe in the latter opera in March 1910.
He gave up Antonio in July 1910, but continued to tour as the Associate, Beckett, Guron, and Second Yeoman until around March 1913 when he left the D'Oyly Carte organization.
Fred Hewett was married to D'Oyly Carte chorister Alice Brewerton.
---
H Index | "Who Was Who" Homepage
---