THE D'OYLY CARTE OPERA COMPANY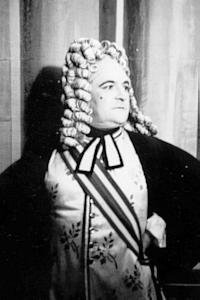 T. Penry Hughes as Annibale in The Gondoliers
T. Penry Hughes (1922-41)
Thomas Penry Hughes joined the D'Oyly Carte Repertory Opera Company as a bass chorister in April 1922, and served with the main Company for nearly 20 years. At the start of the new season in July he assumed the parts of the Notary in The Sorcerer and Old Adam in Ruddigore. In December 1922 he succeeded Robert McQueen as the Foreman of the Jury in Trial by Jury and Bob Beckett in H.M.S. Pinafore. In January 1923, following Allen Morris's departure, Hughes added Major Murgatroyd in Patience, and at some point during the year added Annibale in The Gondoliers as well.
Over the next two years, Hughes roles began to shrink. In July 1923 he picked up Go-To in The Mikado, but yielded the Notary and Old Adam to newcomer Joseph Griffin. In 1924-25 he lost Beckett and Go-To, leaving him with the Foreman, Annibale, and a new tiny role:Second Citizen in The Yeomen of the Guard. Hughes did fill in on occasion for Darrell Fancourt as Dick Deadeye in Pinafore (1923-25), Arac in Princess Ida (1924-25) and Sergeant Meryll in Yeomen (1923-25), and for Ivan Menzies as Major Murgatroyd in Patience and Antonio in Gondoliers (both 1924-25).
He reclaimed Go-To in July 1925 and appeared as Annibale for a portion of the 1925-26 season, but gave up Go-To again in 1929. His roles through June 1934 were the Foreman, Second Citizen, and Annibale. He may be heard on the Company's 1928 recording of Trial as the Foreman and, perhaps, on the 1927 Mikado as Go-To.
By August 1934 he was down to only the Foreman, a role he retained for the rest of his D'Oyly Carte career. He reclaimed Annibale in 1937 after Frank Steward left the Company, and in 1940-41 was one of three performers to share Second Citizen. Between 1932 and 1939 he substituted on occasion for Fancourt again:this time as Deadeye, Arac, and Sergeant Meryll:for Richard Walker as the Usher in Trial by Jury:and for Radley Flynn as Old Adam.
From 1925 until he left the Company in July 1941 Hughes also served the Company as assistant stage manager. He left to take an industrial position in support of Britain's war effort.
---
H Index | "Who Was Who" Homepage
---