THE D'OYLY CARTE OPERA COMPANY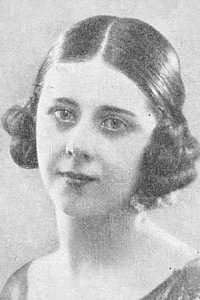 Rose Hignell
Rose Hignell (1917-19)
[Born Bristol 26 Feb 1896, died Oxford 1972]
Rose Hignell joined in the D'Oyly Carte Repertory Opera Company chorus in July 1917, later describing the event as "the greatest moment of my career" in an article in the periodical Music Masterpieces. She served in the D'Oyly Carte chorus until June 1919.
She appeared frequently in London and on tour from 1920 to 1934, taking leading roles in Lilac Time, Polly, The Beggar's Opera, and other musical plays. Lilac Time was especially popular, and she played the part of Lili on three tours of the country and for many months at the Lyric Theatre, London.
Miss Hignell returned to the London Stage once more a dozen years later:as Mrs. Cawthorne in Noel Coward's musical romance Pacific 1860 (Drury Lane, 1946-47).
She was married to D'Oyly Carte tenor Lovat Crosley.
---
H Index | "Who Was Who" Homepage
---