THE D'OYLY CARTE OPERA COMPANY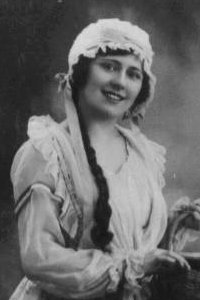 Irene Hill as Rose Maybud in Ruddigore
Irene Hill (1923-28)
[Born c.1903]
Irene Hill joined the D'Oyly Carte Repertory Opera Company chorus in July 1923. In August 1924 she was promoted into three smaller soprano roles:the Lady Ella in Patience, Kate in The Yeomen of the Guard, and Fiametta in The Gondoliers. In December 1924 she added a fourth:Ada in Princess Ida. She would play these parts with the Repertory Company until December 1925, also filling in on occasion during her last six months as Mabel in The Pirates of Penzance and Casilda in The Gondoliers.
In January 1926 Miss Hill transferred to the D'Oyly Carte "New" Opera Company, replacing Kathleen Anderson as one of two principal sopranos. The "New" Company played just four operas, and Irene Hill took the lead in two (Phyllis in Iolanthe and Rose Maybud in Ruddigore), and had a smaller part in a third (Lady Ella again in Patience). In July 1926, Pirates and Gondoliers replaced Iolanthe and The Mikado in the lineup. Miss Hill appeared as Mabel and Casilda in the new operas. She continued with Lady Ella until October 1926, when she moved up to the title role in Patience.
In December 1926 she returned to the Repertory Company, this time as a principal soprano replacing the departing Elsie Griffin. During the January-May 1927 Canadian tour Miss Hill would appeared as Yum-Yum in The Mikado, Elsie Maynard in The Yeomen of the Guard, and Casilda, sharing Elsie with Winifred Lawson. When the Company returned to England in June she added Mabel and Rose Maybud to her regular duties. During her next and last season with the now merged D'Oyly Carte Opera Company (July 1927-June 1928), Irene Hill would appear on a more or less regular basis as Mabel, Patience, Phyllis, Yum-Yum, Rose, and Casilda. All but Casilda, however, were shared for at least a portion of the season with other performers. She would leave the D'Oyly Carte organization in June 1928. Miss Hill was married to D'Oyly Carte tenor Ellis Vizard.
---
H Index | "Who Was Who" Homepage
---