THE D'OYLY CARTE OPERA COMPANY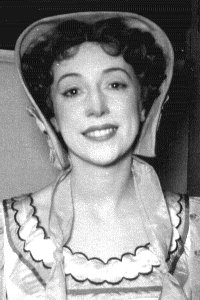 Joyce Hill as Mabel in The Pirates of Penzance
Joyce Hill (1949-51)
[Born Hyde, Cheshire c.1922, died Brighton 30 Jun 2000]
Before turning professional, soprano Elizabeth Joyce Hill was a member of the Hyde Amateur Operatic Society. She joined the D'Oyly Carte Opera Company in February 1949, assuming the role of Kate in The Yeomen of the Guard in July of that year. It was a part she would play for the remainder of her D'Oyly Carte career. During her last season with the Company (1950-51) she also appeared on occasion as Lady Ella in Patience (for Muriel Harding) and Celia in Iolanthe (for Enid Walsh). She also filled in for Miss Harding as Mabel in The Pirates of Penzance during the Company's four weeks at the St. James Theatre, New York, January 29-February 24, 1951. In August 1951 she married D'Oyly Carte chorister Antony Powell-Bristow and left the Company.
Upon leaving the Company, Miss Hill went into pantomime, became a member of the Concert Artists Association, and did several broadcast and concerts. She also sang Celia on the D'Oyly Carte's 1952 recording of Iolanthe.
In 1953 she and her husband moved to Hyde, became duetists, and did a couple of seasons around the Northern Clubs. They eventually moved south where they were involved with producing for amateur operatic societies, while continuing to appear themselves in their duet act. They eventually opened a Fancy Dress Costumiers business which they operated until 1992.
---
H Index | "Who Was Who" Homepage
---