THE D'OYLY CARTE OPERA COMPANY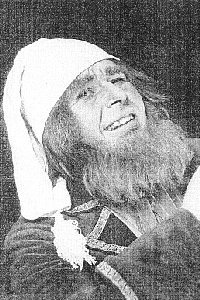 Trevor Hills as Samuel in The Pirates of Penzance
Trevor Hills (1951-56)
[Born Pontycymmer, Glamorgan, South Wales 7 Jan 1921]
Trevor Hills left school at the age of sixteen and went to work at the Ocean Colliery in his native Wales. When he turned eighteen in January 1939 he joined the Army and became a sapper in the Royal Engineers. While serving in Greece in 1941 he was captured by the Germans and spent the next four years as a prisoner of war in Wolfsburg, Austria, and at Stalag 383 in Hohenfels, Bavaria. While interned he joined a choir that put on H.M.S. Pinafore, The Mikado, The Gondoliers, and The Yeomen of the Guard, so the prisoner's time was not completely wasted. Hills has given a detailed account of his experience in the Summer 2004 issue of Gilbert & Sullivan News.
He began rehearsals with the D'Oyly Carte Opera Company in August 1951 and made his debut in the chorus when the new season began in September. Hills took his first named part in Brighton in June 1952 when he went on for Donald Adams as Bill Bobstay in Pinafore while Adams was giving a trial performance as Captain Corcoran. In August 1952 he assumed Bill Bobstay and Giorgio in The Gondoliers as his own, and during the 1952-53 season shared Sergeant Bouncer in Cox and Box with Ivor Evans and Fisher Morgan. During November and December 1952 Hills filled in for Morgan on several occasions as the Learned Judge in Trial by Jury, the Sergeant of Police in The Pirates of Penzance, Private Willis in Iolanthe, Pooh-Bah in The Mikado, Sir Despard Murgatroyd in Ruddigore, Wilfred Shadbolt in The Yeomen of the Guard, and Don Alhambra in The Gondoliers. He also filled in on occasion as the Usher in Trial by Jury, and as Samuel in The Pirates of Penzance (in March 1953 while Adams subbed for Darrell Fancourt as Pirate King).
Hills succeeded Ivor Evans as the Usher and Adams as Samuel in September 1953, while assuming full responsibility for Bouncer then as well. He also shared Second Yeoman in The Yeomen of the Guard with John Banks for the 1953-54 season only. When Princess Ida was revived in a new production in September 1954 Hills added Scynthius to his repertoire. He also filled in on occasion as Pooh-Bah (1953-54), Shadbolt (1953-55), and Private Willis (1954-55). His full-time roles for his last two seasons with the Company were Bouncer, the Usher, Bill Bobstay, Samuel, Scynthius (a part he recorded in 1955), and Giorgio. He left the D'Oyly Carte in July 1956.
Hills later appeared as the Prosecutor in Kismet at London's Princes Theatre in June 1957.
Fifty years after his D'Oyly Carte debut, Trevor Hills was still singing Gilbert & Sullivan:as Private Willis in a concert performance of Iolanthe with the Swansea AOS during the summer of 2001.
---
H Index | "Who Was Who" Homepage
---