THE D'OYLY CARTE OPERA COMPANY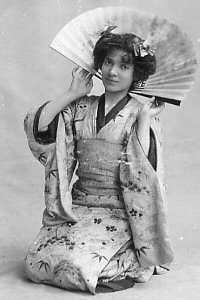 Maggie Hogan in The Mikado
Maggie Hogan (1895-1901)
[Born Limerick, Ireland c.1877]
Maggie Hogan toured with one of D'Oyly Opera Company "B" from January 1895 to March 1896, appearing that year as the Lady Ella in Patience and Phylla in Utopia Limited (both January), Maraquita in The Chieftain (February-August), and Fiametta in The Gondoliers (September-April). She then transferred to D'Oyly Opera Company "E," touring The Grand Duke, where she appeared as Olga until April 1897, and occasionally filled in as the Princess of Monte Carlo (July 1896 and January 1897). She then transferred to D'Oyly Carte Opera Company "C" in May 1897, then back to Company "B" for the second half of the year.
In March 1898 she took the small parts of First Bridesmaid and Isabel in the Trial by Jury/Pirates of Penzance double bill that was added to the D'Oyly Opera Company "B" Company repertoire. She played those roles for the rest of tour, which ended when the Company was disbanded in June, and also filled in in May 1898 as Peep-Bo in The Mikado.
Miss Hogan was later in the chorus when D'Oyly Opera Company "E" toured The Rose of Persia (and later Patience) from February 1900 to June 1901. In Patience she understudied the Lady Ella and probably went on in the role in March when the regular Ella, Blanche Courtney, filled in as Patience.
Maggie Hogan was married to D'Oyly Carte baritone Frank Herbert Crimp.
---
H Index | "Who Was Who" Homepage
---