THE D'OYLY CARTE OPERA COMPANY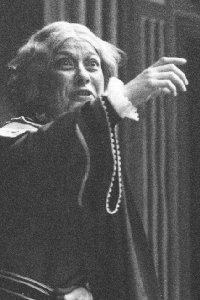 Lyndsie Holland as Dame Hannah in Ruddigore
Lyndsie Holland (1970-77)
[Born Stourbridge, Worcester 12 Mar 1939, died London 2 Apr 2014]
Born Margarer Foster, contralto Lyndsie Holland studied at the Birmingham School of Music, spent three years with the Midland Music Makers Grand Opera Society (where she sang Conchakovna in Prince Igor), and two years in the Sadler's Wells Opera Company chorus.
She joined the D'Oyly Carte Opera Company in December 1970 as successor to principal contralto Christine Palmer, and played her first principal role, Lady Sangazure in The Sorcerer, on March 29, 1971. In April (upon Miss Palmer's departure) she added the remaining lead contralto roles:Little Buttercup in H.M.S. Pinafore, Ruth in The Pirates of Penzance, the Queen of the Fairies in Iolanthe, Lady Blanche in Princess Ida, Katisha in The Mikado, Dame Hannah in Ruddigore, Dame Carruthers in The Yeomen of the Guard, and the Duchess of Plaza-Toro in The Gondoliers. When Patience was restored to the repertoire in September 1971, she would add the Lady Jane.
During the 1975 D'Oyly Carte Centenary season at the Savoy, she also appeared as Lady Sophy in Utopia Limited and Baroness von Krakenfeldt in the concert production of The Grand Duke. She would record both of these roles in 1976, and also recorded Katisha (1973), the Queen of the Fairies (1974), and the Duchess of Plaza-Toro (1977) in D'Oyly Carte sets. Miss Holland may be seen in the D'Oyly Carte's 1973 ATV film of H.M.S. Pinafore as Little Buttercup.
After leaving the D'Oyly Carte Opera Company in July 1977, Miss Holland continued to sing all over the world. In England she appeared in Novello's Perchance to Dream at the Wolsey Theatre, Ipswich, and in the national tour of Evita.
---
H Index | "Who Was Who" Homepage
---