THE D'OYLY CARTE OPERA COMPANY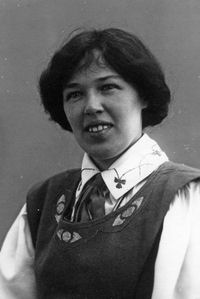 Vera Holme
Vera Holme (1906-07, 1908-09)
[Born Birkdale, Lancashire 29 Aug 1881, died Glasgow 1 Jan 1969]
An accomplished violinist and singer, Vera Louise Holme was a contralto in the D'Oyly Carte chorus at the Savoy for the First and a portion of the Second London Repertory Seasons, December 1906-August 1907 and November 1908-March 1909.
In 1908 Miss Holme helped form the Actresses' Franchise League (AFL). The League worked for women's enfranchisement, sold suffrage literature, and staged propaganda plays. That year she also became a member of the Women's Social & Political Union (WSPU). In late 1909 Miss Holme was appointed chauffer to the leaders of the WSPU.
In November 1909 she appeared as Hannah Snell in A Pageant of Great Women, a play by Cicely Hamilton and performed by the AFL.
During the First World War Miss Holme was commissioned as a Major in the Women's Emergency Corps, and in 1915 was placed in charge of trucks and horses in the Scottish Women's Hospital units sent to Serbia. Miss Holme remained involved with relief work for Serbia throughout the 1920s and '30s. She later moved to Scotland where she became involved in the artist scene around Kirkcudbright.
---
H Index | "Who Was Who" Homepage
---