THE D'OYLY CARTE OPERA COMPANY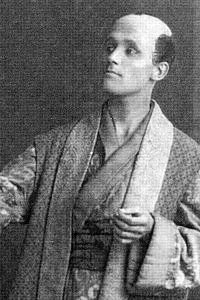 B. William Holmes in The Mikado
B. William Holmes (1919-25, 1940-44)
[Born 1890, died 24 Mar 1966]
B. William "Bertie" Holmes was engaged as a chorister with the D'Oyly Carte "New" Opera Company in September 1919. He toured with the "New" Company until July 1925, appearing a various times as the Associate in Trial by Jury (1921-22 and 1923-24); the Earl of Mountararat in Iolanthe (1923-24); Second Yeoman (1920-21), Second Citizen (1922-23), and First Citizen (1924-25), and the Lieutenant of the Tower (1924-25) in The Yeomen of the Guard; and Giorgio (1920-23), Annibale, Giuseppe and Luiz (all 1923-24) in The Gondoliers.
Holmes left the Carte organization in 1925 to go into musical comedy, appearing in 1927-28 at Drury Lane in the original London production of The Desert Song. He returned to the remaining D'Oyly Carte Opera Company chorus in June 1940 as a wartime replacement. In the summer of 1943 he became the Company's assistant manager, a post he held until 1949. He continued to appear in the chorus until April 1944. He remained with the Company as a clerk in the Savoy Hill office through the end of December 1961.
Even after his formal retirement, Holmes retained close contact with the Company, helping out in emergency situations and behind the scenes. He also did a good deal of producing for amateur operatic societies. When he died suddenly in 1966 following an operation he was remembered with great fondness in the D'Oyly Carte Opera Trust's magazine The Savoyard.
---
H Index | "Who Was Who" Homepage
---