THE D'OYLY CARTE OPERA COMPANY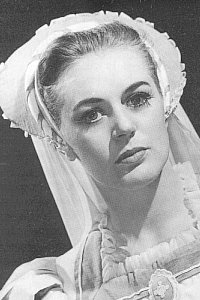 Ann Hood as Elsie Maynard in The Yeomen of the Guard
Ann Hood (1963-67, 1970)
[Born Middleton, Lancashire 23 May 1940, died Barrow-in-Furness, Cumbria 3 Feb 2000]
While studying singing at the Royal Academy of Music, where she won the Isabel Jay award, Ann Hood made her operatic debut as the Second Boy in Mozart's The Magic Flute at Covent Garden in 1962. After leaving the Academy, she joined the D'Oyly Carte Opera Company as principal soprano in July 1963. She replaced Mary Sansom as Josephine in H.M.S. Pinafore and Elsie Maynard in The Yeomen of the Guard, and Jennifer Toye as Mabel in The Pirates of Penzance that month.
For the 1963-64 season, Ann Hood played Josephine, Elsie, and Mabel for the entire run, except for a stretch between December and May in which Jean Hindmarsh returned to play Mabel. In August 1964, Mary Sansom left the Company and was replaced in the soprano line-up by Valerie Masterson. Ann Hood took on Miss Sansom's old roles of Patience in Patience, Rose Maybud in Ruddigore and Gianetta in The Gondoliers, but yielded Mabel to Miss Masterson.
When Princess Ida was revived in November 1965, Ann Hood took the title role. Her parts from that point forward until she left the Company in July 1967 were Josephine, Patience, Ida, Rose, Elsie, and Gianetta.
She may be heard on several D'Oyly Carte recordings made during her tenure with the Company:as the Plaintiff in Trial by Jury (1964), Princess Zara in Utopia Limited (1964, excerpts), Phoebe Meryll in The Yeomen of the Guard (1964), Lady Psyche in Princess Ida (1965), and Constance Partlett in The Sorcerer. Oddly, she had appeared in none of these roles on stage with the Company. She also appeared in the 1965 BBC2 broadcast of Patience as Patience, and was the voice of Rose Maybud in the 1967 Halas & Batchelor cartoon version of Ruddigore.
Ann Hood joined Sadler's Wells Opera in 1969, singing Second Lady in The Magic Flute, and then joined "Opera for All" to sing Fiordiligi in Cosi Fan Tutte and Gilda in Rigoletto. After a guest appearance with D'Oyly Carte Opera Company in April 1970 as Princess Ida in Princess Ida, she joined English National Opera where, after a further period of study, she transferred to mezzo-soprano roles. In 1972 she found time to perform (and film) three of them:Iolanthe in Iolanthe, Mad Margaret in Ruddigore, and Tessa in The Gondoliers with "Gilbert & Sullivan for All." With ENO she would sing a broad repertoire of mezzo roles, including, in 1975, the Lady Angela in Patience. Her last appearance with ENO was in Martini's Julietta at the London Coliseum in 1978, but she returned to Gilbert & Sullivan once more:this time as a contralto (Katisha in The Mikado) with the Musical Theatre Company at the Westminster Theatre in May 1979.
After her retirement from performing, she taught singing in Barrow-in-Furness. Her first marriage to D'Oyly Carte tenor David Palmer ended in divorce.
---
H Index | "Who Was Who" Homepage
---