THE D'OYLY CARTE OPERA COMPANY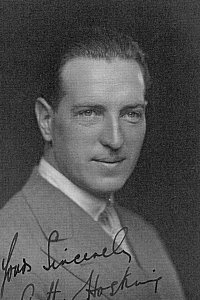 Arthur Hosking
Arthur Hosking (1927-28)
[Born c.1892]
Arthur Hosking made his first appearance on the London Stage in 1923 at the Lyric Theatre, Hammersmith, as the last artist to play Macheath in The Beggar's Opera during a run that lasted three-and-a-half years. In 1924, he appeared as Andreas Braun at London's other Lyric Theatre in Lilac Time.
He joined the D'Oyly Carte "New" Opera Company in its last days, giving a few performances as Archibald Grosvenor in Patience and Giuseppe in The Gondoliers in May and June 1927. He then transferred to the remaining D'Oyly Carte Opera Company where, later that month, he appeared as the Counsel to the Plaintiff in Trial by Jury, Grosvenor, Strephon in Iolanthe, and Giuseppe. He then spent one full season with the D'Oyly Carte (July 1927-June 1928), during which he appeared regularly as the Counsel, Grosvenor, Strephon, Florian in Princess Ida, and Luiz in The Gondoliers. He left the Carte organization at the end of the season.
During his relatively brief time with the Company he recorded the Counsel and Luiz (both 1927), and after he left he appeared on the Company's 1928 recording of The Yeomen of the Guard as the Lieutenant of the Tower, a role he never played on stage.
Hosking returned to the London Stage sporadically in subsequent years. He was in the chorus of A Waltz Dream (Winter Garden, 1934-35), a revival of Hood & Sullivan's The Rose of Persia (Princes, 1935), and Dancing City (Coliseum, 1935). He then played Braun in Lilac Time again (Coliseum, 1936), the Captain of Archers in The Vagabond King (Coliseum, 1937), and Major Schneider in The Grand Duchess (Daly's, 1937). After a gap of five years, he returned to Lilac Time, this time as Count Scharntorff (Stoll, 1942).
---
H Index | "Who Was Who" Homepage
---