THE D'OYLY CARTE OPERA COMPANY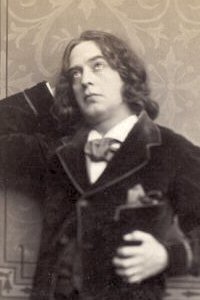 John Howson as Reginald Bunthorne in Patience
John Howson (1885)
[Born Hobart Town, Tasmania 17 Nov 1842, died Troy, New York 16 Dec 1887]
John Jerome Howson was the brother of Emma Howson, the original Josephine at the Opera Comique. He first appeared as a child at the Royal Victoria Theatre, Sydney, under his father's direction. In 1866 he left with his family for America, performing in California for three years before heading east. His New York debut was in November 1869 at Wood's Museum in The Pretty Horsebreaker and H. J. Byron's burlesque of Aladdin, and he may well have been the first Mr. Cox in America, appearing in the Burnand and Sullivan triumviretta Cox and Box at the Opera House, San Francisco, on March 11, 1874. Howson would spend the rest of his life performing comedic roles in the United States and England.
His London debut came as Commander Patatras in La Creole (Folly Theatre, September 1877). He subsequently played Escamillo in London with Lydia Thompson in a burlesque of Carmen, but returned to America in 1880, and enjoyed several successes in light opera:notably as Reginald Bunthore in Patience with the Comly-Barton Company (1881-82) and as John Wellington Wells in The Sorcerer with MacCaull's English Opera Company (1884-85).
His one engagement with the D'Oyly Carte Opera Company was less successful. He was hired by John Stetson to play Ko-Ko with Carte's Second American Mikado Company at Boston's Hollis Street Theatre in November 1885. Receipts declined during the second month and Stetson blamed Howson, who resigned rather than adapt his performance. He was replaced, on a stopgap basis, by F. A. Leon, and ultimately by Richard Mansfield.
Howson suffered from heart disease for several years but refused, for financial reasons, to give up the stage. He died while on tour with the Lotta Company in December 1887.
---
H Index | "Who Was Who" Homepage
---