THE D'OYLY CARTE OPERA COMPANY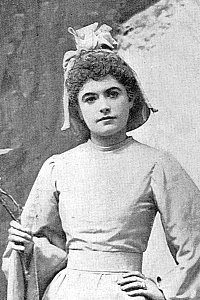 Jessie Huddleston as Dewman in Hansel and Gretel
Jessie Huddleston (1902-03)
[Born 1883, died Dartford 7 Jan 1969]
Jessie Huddleston, whose real name was Jessica Alford, was a student at the Guildhall School of Music when she made her debut on the London Stage as Marguerite in a single matinee performance of Gounod's Faust at the Lyceum in May 1893.
From December 1894 to June 1895, she was Dewman, the Dawn Fairy, in Humperdinck's Hansel and Gretel at Daly's, the Princess's, and the Savoy, also appearing at Daly's in Mozart's one-act Bastien and Bastienne. In 1895 and 1896 she appeared in several grand operas at Drury Lane and Covent Garden, and also appeared in Hansel and Gretel at Daly's in New York. She was in the cast of La Poupee at the Prince of Wales's in 1898. In 1899 she appeared in a Lyric comic opera, L'Amour Mouille, and in 1901 was back at the Princess's for a short-lived drama, The Sin of Life.
In November 1901, Jessie Huddleston was engaged to appear as Nephthys on a tour of a new version of The Belle of Cairo, but a shortage of funds brought the tour to an abrupt end, and Miss Huddleston took tour management to court for back wages.
Miss Huddleston must have spent the next several months in a crash course in the Savoy operas, because on March 15, 1902, she left for South Africa as principal soprano with a D'Oyly Carte touring company. They toured for over a year (April 8, 1902-May 18, 1903) in which she appeared as Aline in The Sorcerer, Josephine in H.M.S. Pinafore, Mabel in The Pirates of Penzance, Patience in Patience, Phyllis in Iolanthe, Yum-Yum in The Mikado, Elsie Maynard in The Yeomen of the Guard, Gianetta in The Gondoliers, Princess Zara in Utopia Limited, and Sultana Zubeydah in The Rose of Persia. It was her only engagement with the D'Oyly Carte organization.
---
H Index | "Who Was Who" Homepage
---