THE D'OYLY CARTE OPERA COMPANY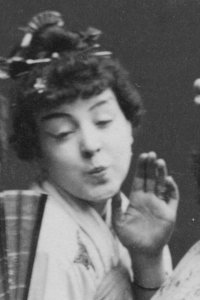 Sophie Hummell as Yum-Yum in The Mikado
Sophie Hummell (1881, 1882)
Sophie Hummell's first appearance on the New York Stage was in a small part in a "Grand Pantomimic Burlesque Extravaganza," Grim Goblin, at Wallack's Theatre in August 1880.
She was a frequent chorister in D'Oyly Carte's New York productions at the Standard Theatre in 1881-82. She was a Charity Girl in Billee Taylor with Carte's First American Billee Taylor Company (February-May 1881), and was in the chorus on Claude Duval (March-April 1882) and Les Manteaux Noirs (September-October 1882). She may well have been in the chorus of Patience (September 1881-March 1882), as well.
She would make frequent appearances in New York during the next few years in larger roles, culminating in November 1885, when she appeared at Koster & Bial's Concert Hall as Yum-Yum in a burlesque version of The Mikado.
---
H Index | "Who Was Who" Homepage
---