THE D'OYLY CARTE OPERA COMPANY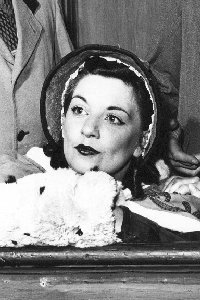 Alice Hynd in Trial by Jury
Alice Hynd (1951-59)
[Born Waukmill, Dundee 19 Mar 1926, died Glasgow 8 Mar 2001]
Contralto Anna Mary Alice Shaw Hynd joined the D'Oyly Carte Opera Company chorus in December 1951 and remained with the Company until November 1959. During the 1956-57 season she appeared regularly as Inez in The Gondoliers, and filled in occasionally for Ann Drummond-Grant as Katisha in The Mikado.
For the July 1957-July 1958 season, she was the lone Inez and, as understudy to Miss Drummond-Grant, appeared from time to time as the Queen of the Fairies in Iolanthe, Katisha in The Mikado, and Dame Carruthers in The Yeomen of the Guard.
Ann Drummond-Grant missed a large portion of the 1958-59 season due to illness. During these stretches (September-November 1958, February 1959, May-July 1959), Alice Hynd appeared as Little Buttercup in H.M.S. Pinafore, Ruth in The Pirates of Penzance, the Lady Jane in Patience, the Queen of the Fairies, Katisha, Dame Hannah in Ruddigore, Dame Carruthers, and the Duchess of Plaza-Toro in The Gondoliers.
In August 1959, however, the season began with Gillian Knight engaged as the new principal contralto. Alice Hynd reverted to Inez and the chorus. She filled in on at least one last occasion as Katisha (Golders Green, October or November 1959), then left the Company in November of that year.
Alice Hynd would later perform with "Gilbert & Sullivan for All," appearing as Inez in their 1972 film of The Gondoliers. She also appeared with Royal Opera, Covent Garden, and with the English Opera Group.
---
H Index | "Who Was Who" Homepage
---