THE D'OYLY CARTE OPERA COMPANY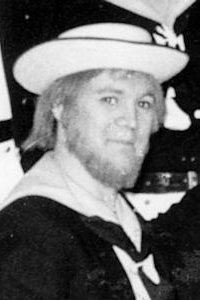 Arthur Jackson as Bob Beckett in H.M.S. Pinafore
Arthur Jackson (1967-72)
[Born Denton, Lancashire]
Arthur Jackson joined the D'Oyly Carte Opera Company as a bass chorister in July 1967.During the 1968-69 season he filled in on occasion as the Foreman of the Jury in Trial by Jury, Bob Beckett in H.M.S. Pinafore and Giorgio in The Gondoliers.
In September 1969 he took four small bass roles for his own (Foreman, Beckett, Giorgio, and Go-To in The Mikado), and also filled in from time to time during the 1969-70 season as the Usher in Trial, the Sergeant of Police in The Pirates of Penzance, Guron in Princess Ida, and Pooh-Bah in The Mikado.
For the next two seasons (1970-71 and 1971-72), he would continue to play the Foreman, Bob Beckett, Go-To, and Giorgio, and in March 1971 added the Sergeant in Pirates and Second Yeoman in The Yeomen of the Guard.He would continue to fill in on occasion in other parts:the Usher, Guron, Pooh-Bah, plus Don Alhambra in The Gondoliers and Sir Marmaduke Pointdextre in The Sorcerer.
Jackson left the Company in the summer of 1972, but in September of that year returned as an emergency replacement, appearing as Pooh-Bah and Go-To in The Mikado, and Private Willis in Iolanthe in September and October.
Arthur Jackson may be heard as Bob Beckett on the 1971 D'Oyly Carte "Phase 4" recording of H.M.S. Pinafore.
---
Return to I - J Index | Return to "D'Oyly Carte Who Was Who" Home Page
---