THE D'OYLY CARTE OPERA COMPANY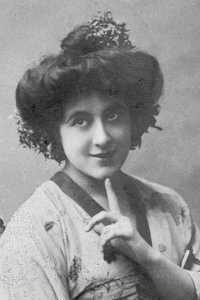 Hilda Jacobsen as Pitti-Sing in The Mikado
Hilda Jacobsen (1900-01)
Hilda Jacobsen first appeared in a London program as Teresa in L'Amour Mouille at the Lyric Theatre, April-June 1899.She would return to the Lyric as Inez in Floradora (one of two actresses to take the part).Floradora ran from November 1899 until March 1901, but Miss Jacobsen had left for the Savoy by July 1900.
She appeared as Kate in D'Oyly Carte's second London revival of The Pirates of Penzance from July to November 1900, then went on tour with the D'Oyly Carte Repertoire Opera Company "C" as its leading soubrette, appearing as Constance Partlett in The Sorcerer, Hebe in H.M.S. Pinafore, Edith in The Pirates of Penzance, Lady Angela in Patience, Iolanthe in Iolanthe, Melissa in Princess Ida, Pitti-Sing in The Mikado, Phoebe Meryll in The Yeomen of the Guard, Tessa in The Gondoliers, and "Heart's Desire" in The Rose of Persia, until she left the D'Oyly Carte organization in July 1901.
After leaving the D'Oyly Carte she appeared in London at the Gaiety in The Toreador and The Orchid, and created the part of Honoria in The Catch of the Season at the Vaudeville.The Catch of the Season opened in September 1904, and ran for nearly a year-and-a-half, but she left the cast at some point during the run.
---
Return to I - J Index | Return to "D'Oyly Carte Who Was Who" Home Page
---