THE D'OYLY CARTE OPERA COMPANY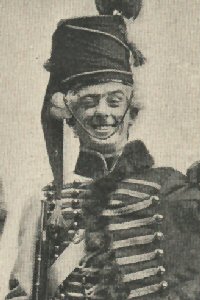 Cairns James as Governor Griffenfeld in His Excellency
Cairns James (1887-91)
[Born Edinburgh, Scotland 23 Sep 1865, died Gloucester 7 Oct 1946]
Lewis Cairns James was the principal comic baritone on tour with Mr. D'Oyly Carte's "B" Company between July 1887 and September 1891.In July 1887 he replaced W. R. Shirley as Robin Oakapple in Ruddigore, then added Ko-Ko in The Mikado when the Japanese opera was added to the "B" Company repertoire in December of that year.He played Robin and Ko-Ko until June 1888 when "B" Company was disbanded. (James may have made his D'Oyly Carte debut a bit earlier. When Carte's Third American Ruddygore Company reached Toronto, on May 9, 1887, a mysterious "Louis James" is credited in press reports as playing Robin.)
Company "B" was revived in January 1889 to tour The Yeomen of the Guard, James as Jack Point.Once more The Mikado was added to the tour in December 1889, and James was once more Ko-Ko.This time he ran afoul of management as a result of his introduction of "inappropriate, exaggerated and unauthorized 'business'" and refusal to take direction from the stage manager.He received a stern letter of rebuke from W. S. Gilbert, who added "no actor will ever find his way into our London Company who defies any authority in this respect.I am the more sorry as Mr. Carte speaks in high terms of your and your wife's ability."
James had married Jessie Moore earlier that year.She was playing Elsie Maynard and Yum-Yum on the same tour.He never did join D'Oyly Carte's London Company but retained his position with Company "B," playing Ko-Ko (until March 1890), Point (until April 1890, and again from December 1890 onward), and the Duke of Plaza-Toro in The Gondoliers (from March 1890), until he left the Carte organization in September 1891.
After leaving the D'Oyly Carte, James appeared often for London audiences. Between 1891 and 1902 he performed in a variety of roles in musical and legitimate works at the Opera Comique, Lyric (including Pietro in Gilbert & Cellier's The Mountebanks, in which he succeeded Lionel Brough, 1892), Royalty, Globe, Prince of Wales's, Drury Lane, Strand, Trafalgar Square (where he also worked as assistant stage manager, 1893), Gaiety, Vaudeville, Comedy, Garrick, and Savoy (Naughty Nancy, 1902) Theatres.He also made tours of South Africa and North America, appearing in New York as Governor Griffenfeld in Gilbert & Carr's "His Excellency" (Broadway, 1895).
James was away from the London Stage between 1902 and 1916 (serving for a time as Professor of Elocution at the Royal College of Music, Guildhall School of Music, and at his own School of Musical and Dramatic Art in London), but returned as a producer at the Shaftesbury in January 1916.He wrote the libretto for his first work there:an opera called The Critic, with music by Charles Villiers Stanford.He later played Puff in The Critic at the Aldwych (May 1916).Over the next few years (1916-19) he made occasional appearances at the Strand and Criterion, and produced opera the Aldwych, Drury Lane, and Covent Garden.His last production in London was Humperdinck's Hansel and Gretel at Drury Lane, December 1922-January 1923.
In retirement Cairns James directed amateur operatic societies in Gilbert & Sullivan in Croydon (1920s) and Woolwich (1938-42).
---
Return to I - J Index | Return to "D'Oyly Carte Who Was Who" Home Page
---