THE D'OYLY CARTE OPERA COMPANY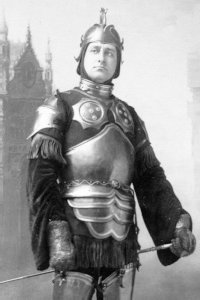 Cory James as Lord of Serault in The Beauty Stone
Cory James (1895-98)
[Born Tulse Hill, Lambeth 1864]
Tenor William Cory James was in the D'Oyly Carte Opera Company chorus at the Savoy from at least December 1895. During the revival of The Mikado in July 1896, he filled in on at least one occasion for an indisposed Charles Kenningham as Nanki-Poo.
In the May 1897 revival of The Yeomen of the Guard he was initially cast as the First Yeoman, but later that month took over as Leonard Meryll, which he played until August. In The Grand Duchess of Gerolstein (December 1897-March 1898) he was Lt. Nierstein, and for the March 1898 revival of The Gondoliers he was Francesco. From May to July 1898 he played the Lord of Serault in The Beauty Stone, and when The Gondoliers was brought back in July he resumed Francesco. In August 1898 he filled in for a spell for Jones Hewson as Luiz. In the September 1898 revival of Trial by Jury and The Sorcerer, Cory James played the Defendant in the shorter work until December 1898 when he left the Company.
James was married in 1896 to fellow D'Oyly Carte artist Ethel Wilson.
---
Return to I - J Index | Return to "D'Oyly Carte Who Was Who" Home Page
---