THE D'OYLY CARTE OPERA COMPANY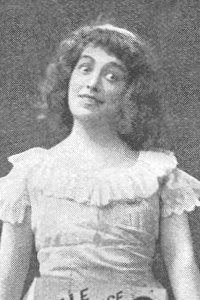 Katie James as a Doll in a music hall sketch
Katie James (1891)
[Born 1852 or 1856, died 2 Nov 1913]
Katie James was a popular music hall artist who had also appeared at Adelphi and Drury Lane Theatres in 1890 and 1891, when she was engaged by D'Oyly Carte in August 1891 to replace Jessie Bond as Chinna Loofa in The Nautch Girl at the Savoy.Miss Bond and Rutland Barrington had left the Savoy to take a series of "musical duologues" on a provincial tour.
When Miss Bond returned to reclaim her role in November, Katie James left the cast.Her next stage assignment involved replacing another legend.On Christmas Eve 1891 she appeared at the Gaiety in the title role of the burlesque Cinder Ellen Up-Too-Late, a part that would, but for illness, have gone to Nellie Farren.Katie James played Cinder Ellen until May 1892, then, after a month's engagement at the Prince of Wales's, returned to the music halls.
Her London dramatic appearances were infrequent thereafter:Lord Tom Noddy in 1896 and Dumb-Bell Daisy in 1903 were her only real engagements.She was presumably working the halls.As a music hall artist she was associated with approximately twenty songs, one of which was, appropriately, "A Gaiety Girl."
---
Return to I - J Index | Return to "D'Oyly Carte Who Was Who" Home Page
---