THE D'OYLY CARTE OPERA COMPANY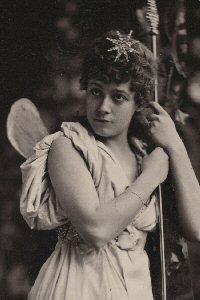 Marie Jansen as Iolanthe in Iolanthe
Marie Jansen (1882-83)
[Born Boston, Massachusetts c.1849, died Milford, Massachusetts 20 Mar 1914]
Marie Jansen, whose real name was Harriet Marie Johnson, made her stage debut at the Park Theatre, Boston, in Lawn Tennis on September 13, 1881.The following year she was in New York, where she appeared in Olivette, The Vicar of Bray, and Billee Taylor, before joining the D'Oyly Carte for whom she appeared in the title role in Iolanthe at the Standard Theatre on November 25, 1882, the same day as the London premiere at the Savoy.She would play Iolanthe for the duration of the run, ending February 24, 1883. It would be her only D'Oyly Carte engagement.
She would go on to appear in Gilbert & Sullivan several more times, however.Barely a month after Iolanthe closed she was back at the Standard in the title role in Patience, and a week after that she transferred to the Fifth Avenue Theatre as Iolanthe in a "new" (though less successful) production of the fairy opera.
Later that year she would join the McCaull Opera Company where she enjoyed great success in Millocker's The Beggar Student.After a trip to England, where she played the title role in Featherbrain at the Criterion (1884-85), she returned to America and joined the Frances Wilson Opera Company, for whom she starred in several roles, not least as Tessa in their 1890 production of The Gondoliers at the Broad Street Theatre, Philadelphia.
In 1901 she formed her own touring opera company, but that venture was not entirely successful and she ultimately retired from the stage.
---
Return to I - J Index | Return to "D'Oyly Carte Who Was Who" Home Page
---